Will the Lordstown Motors Debacle Affect Electric Vehicle ETFs?
June 14, 2021 at 17:06 PM EDT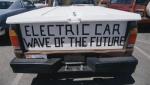 In the latest bout of trouble for Lordstown Motors, the electric car company that operates out of a former GM plant, the company said Monday that CEO Steve Burns and CFO Julio Rodriguez have stepped down from their posts. Lordstown is actively seeking permanent replacements. The resignations arrive...