Looking for Alternatives to Traditional Fixed Income ETFs?
May 12, 2021 at 14:52 PM EDT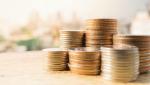 Low interest rates and jittery equity markets combine to highlight the allure of high dividend and low volatility exchange trade funds. Some ETFs, including the VictoryShares US Large Cap High Div Volatility Wtd ETF (NasdaqGM: CDL), marry those concepts. CDL tracks the highest 100 dividend-yielding...