Ethereum Soars, But Is It Better than Bitcoin? Gold?
May 05, 2021 at 17:17 PM EDT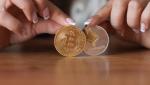 Bitcoin grabs the lion's share of the headlines, but another cryptocurrency is outperforming it by a large margin: ether. This week ether, the transactional token of the Ethereum blockchain, has blown past its all-time high, soaring past the $3,000 mark and now edging close to $3,500 at time of...