Revisit Refiner's ETF. It Might Be Worth It.
October 06, 2020 at 10:03 AM EDT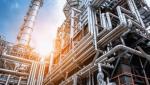 Traditional energy stocks and the related exchange traded funds are being blasted this year, but some market observers see pockets of opportunity in the space. The VanEck Vectors Oil Refiners ETF (NYSEArca: CRAK) may one example. CRAK tracks the MVIS Global Oil Refiners Index. That index "is a...