Could Vega Launch Promote Interest In Space ETFs?
June 19, 2020 at 16:09 PM EDT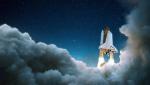 The first launch of an Italian-made Vega rocket since an in-flight failure almost a year ago has been rescheduled to at least Monday night due to potentially dangerous upper-level winds over the Vega launch base in Kourou, French Guiana. The rocket will hold a variety of small satellites made in...