The prestigious company has combined science and nature to create Red Marine Algae supplement manufactured with highest quality standards in USA in an FDA certified facility adhering to GMP requirements. Red Marine Algae is recommended to many people due to its wide range of benefits.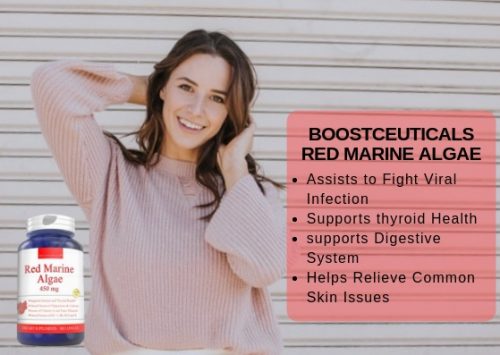 New York NY, United States - October 25, 2018 /MarketersMedia/ —
Red Marine Algae, commonly known as a sea vegetable, is a type of algae that grows abundantly in the ocean. It has been used by Chinese and Japanese cultures for centuries for its nutritional benefits. Known as a SuperFood, it has which are both highly nutritious and beneficial. Red Algae also contains 10 to 20 times more minerals than plants grown on land together with excellent biological activity. Many naturalistic practitioners use red marine algae to treat patients with chronic fatigue and it has also been shown to possess anti-inflammatory, analgesic and gastro-protective properties and is used by many as a natural herpes treatment.
The problem for most supplement consumers is that they are forced to make difficult decisions when choosing which products to use. Most supplements are usually manufactured with flow agents or lubricants to help run processing equipment faster that actually detract from product quality. Moreover, the vast majority of these products are filled with potentially toxic ingredients and contaminants that can potentially do more damage than good.
Boostceuticals Nutrition, a rapidly growing supplement brand that has the right balance of nature and science, recently re-introduced their highly-anticipated Red Marine Algae Supplement . This potent Boostceuticals Red Marine Algae is non GMO and contain none of the following - stearates, coloring, additives, lactose, soy, sugar, gluten, or wheat and it surpasses the necessary 99% purity rating set by the Food and Drug Administration (FDA).
"We've always admired the amazing power of Red Marine Algae Supplementation, but we've been disappointed to see how many products contain potentially hazardous fillers that outweigh the benefits of this super ingredient," said Leo Eliades, CEO of Boostceuticals Nutrition. "We created Boostceuticals Red Marine Algae 450mg to bring a 100% unrefined, safe and effective supplement to the public, so they can experience what we've known for years."
A 2016 study published in Pharmaceutical Biology found that red marine algae is a natural source of compounds that contain potent biological and pharmacological properties, including gastro-protective, analgesic and anti-inflammatory activities. Furthermore it has shown to naturally lower cholesterol, among many other health-related benefits. What's more, marine algae are a good source of phytosterols, which have been shown to reduce "bad" or LDL cholesterol levels when taken in supplemental form by lowering intestinal cholesterol absorption.
With regards to its antioxidant effects, Red marine algae is effective in activating cellular antioxidant enzymes and suppressing certain mechanisms that kill off healthy cells. Red algae may also be able to help prevent DNA damage and fight chronic fatigue with its high antioxidant content.
Red marine algae is used to support healthy skin (psoriasis, eczema, herpes), hair, nails, and immunity. It may support quick recovery and a decrease in severity of skin troubles and lesions. Studies have shown that many have switched to Red Marine Algae from using L-lysine and over-the-counter topical creams.
"Our main goal with Boostceuticals Red Algae was to showcase the valuable and natural benefits of Red Marine Algae," said Eliades. "We wanted to show people how a premium-quality Red Marine Algae Supplement can potentially change lives for the better, and that's exactly what we're doing."
Boostceuticals Red Marine Algae supplements have been re released on Amazon.com. To celebrate, Boostceuticals is giving away a special 20% off Amazon discount coupon code so anybody can try their Red Marine Algae. This way more people can experience this breakthrough supplement at the lowest possible launch price.
To get yours now, visit http://bit.ly/freemarine
The Red Marine Algae Supplement is popular and can go fast, hence the company may have a limited supply.
Contact Info:
Name: Alicia Walters
Organization: Boostceuticals Nutrition
Address: 228 Park Avenue, S# 71493

Video URL: https://www.youtube.com/watch?v=oJ7RQiiEMY4
Source URL: https://marketersmedia.com/boostceuticals-announces-release-of-groundbreaking-red-marine-algae-supplement/427520
For more information, please visit http://www.boostceuticals.com
Source: MarketersMedia
Release ID: 427520