Is Trade War the "New Normal"?
July 12, 2018 at 10:47 AM EDT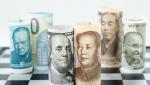 By Henry Ma, Julex Capital The trade war between the world's two largest economies finally arrived. Last Friday, President Trump followed through with his threats of tariffs against China when the U.S. implemented duties on $34 billion in Chinese imports. Beijing retaliated proportionately by...