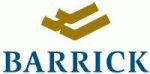 TORONTO, ONTARIO -- (Marketwired) -- 01/03/17 -- Barrick Gold Corporation (NYSE: ABX)(TSX: ABX) will release its Fourth Quarter 2016 Results on February 15, 2017, followed by a conference call and webcast on February 16 at 9:00 am ET.


      Fourth Quarter Results Release    February 15, after market close
         Conference Call and Webcast    February 16, 9:00 am ET

        Toll Free (U.S. and Canada):    1-800-319-4610
                      International:    +1 416-915-3239


The webcast and presentation materials will be available on Barrick's website at www.barrick.com. The conference call will be available for replay by phone at 1-855-669-9658 (U.S. and Canada toll free), and +1 604-674-8052 (international), access code 1014.
Contacts:
INVESTOR CONTACTS: Daniel Oh
Senior Vice President, Investor Engagement and Governance
+1 416 307-7414
doh@barrick.com

MEDIA CONTACT: Andy Lloyd
Senior Vice President, Communications
+1 416 307-7414
alloyd@barrick.com