ADI is proud to announce the launch of Breathe Meditation Lamp.

Breathe Meditation Lamp is a meditation tool developed to help people get started with meditation, or improve their existing meditation practice. It allows to acquire a paced, serene breath, and to focus the mind on the breathing. The mind is conditioned into a meditative state more easily. These two elements form the basis of meditation.
"Breathe Meditation Lamp solves the oh-so common barrier of 'I want to start meditating but I don't know how', says Stéphane Rousseau, cofounder; Simply turn on the lamp, breathe in as the lamp lights up, breathe out as the lamp dims down, repeat for 5 minutes, and there, you just meditated! It's a great tool to build confidence for the meditation beginner", continued Stéphane.
Breathe Meditation Lamp is not the latest gadget riding the latest trend. It is mindful inside and out. It is designed for a more environmentally and socially sustainable world: the natural Himalayan salt globe is mounted on a raw-wood base. The slick, serene design turns the lamp into a beautiful decorative object for your home or office. The soothing blue hue it emits helps promote calm, quiet and peace of mind. Bonus: Breathe Meditation Lamp can be carried anywhere, thanks to its compact size.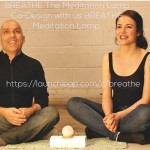 "We strongly believe Breathe Meditation Lamp will allow many people to develop a consistent and efficient meditation practice, therefore resulting in a more mindful, relaxed day-to-day life", said Rousseau.
The lamp is in its final stage of development. To make sure it suits all users' needs, we made a short questionnaire about desired features.

Help us make the best meditation lamp possible by filling out our short survey https://launchleap.com/c/breathe.
About Acceleration, Design & Innovation Inc
Acceleration, Design and Innovation Inc. is a technology and hardware accelerator based in Montréal.
Breathe Meditation Lamp: Meditation Made Easy is a post from: PRUnderground