Realm Zero has provided users with an evolving massive multiplayer online platform that allows for endless adventure. Driven by player interaction, the game has consistently evolved to suit the desires of players. Now, the team at Realm Zero has launched a GoFundMe crowdfunding campaign to cover the costs of running the business, keeping the servers going, and more.
Realm Zero has been an ever-adapting project for founder Hank Newman. "Realm Zero was a project I started roughly two years ago while maintaining a full time 40+ hour job," Newman says. "I've done this on my own, and my goal has been to establish the foundation for a much larger and expandable gaming framework. Last year, I had the alpha release where over 300 players connected and were able to test out a very early stage of the game. I've kept the servers online and players are still able to sign in and play around in this online environment."
Last month, Realm Zero released a patch that implemented the very first crafting skill of the game. Now, the blacksmith tool can be used to create items. Realm Zero has also announced an upcoming land claim and player housing patch. This will allow users to control land and place a house in the game's environment. The patch will be available at the end of February 2015, and GoFundMe pledgers will have exclusive access as part of a $20 donation.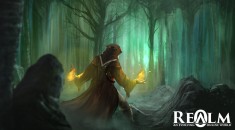 The GoFundMe campaign aims to raise $8,000, which will keep the servers running for at least 3 years and offset other costs associated with the game. Pledgers can choose one of three tiers. A $5 "Realm Supporter" donation will grant pledgers access to the game throughout the entire alpha phase. "Realm Founders" who donate $10 will receive access to the game during the alpha and beta phases. "Realm Settlers" who donate $20 will receive a 1X1 land claim deed and one year subscription at release, in addition to access to the game during the alpha and beta stages.
Currently, users can instantly play a working version of Realm Zero while it's in the alpha stage. Users can register at Realm Zero's website, download and install the game, and login. Newman plans to apply new game patches every few weeks to further expand the game. More information about the game can be found at www.realmzero.com. Details regarding the GoFundMe campaign are available at http://www.gofundme.com/realmzero.
About Realm Zero
Realm Zero, which went under development in March, 2013, is giving putting a fresh perspective on a classic online game model. Unlike most massive multiplayer online games, Realm Zero will allow players to claim territory, construct and demolish items, and move items, in addition to utilize a highly-versatile crafting system. Instead of using old-style combat and tab-targeting, players will enjoy fast-paced combat that includes throwing, spells, archery, and melee.
Realm Zero, Evolving Massive Multiplayer Online Game Announces GoFundMe Campaign is a post from: PRUnderground