Throughout the Alibaba IPO process, the Chinese e-commerce giant has been regularly compared to the largest e-commerce company in the United States, Amazon.com Inc. (Nasdaq: AMZN).
In fact, one of the most common nicknames for Alibaba Group Holding Ltd. (NYSE: BABA) this past year has been "The Amazon of China."
But there are a handful of reasons why that title doesn't fit - one of them being Alibaba's climbing value...
Alibaba IPO: Where Company's Valuation Stacks Up
Alibaba is expected to price its shares between $60 and $66, and could raise as much as $24.3 billion depending on how many shares the IPO's underwriters buy. At the midpoint of that range, Alibaba would have a valuation of roughly $155 million.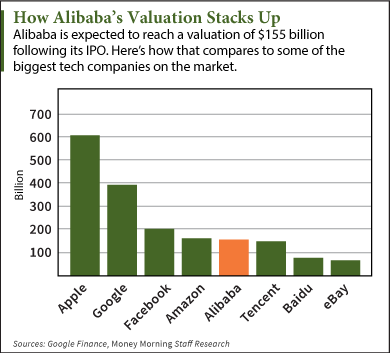 That's not far behind Amazon's current market cap of $160 billion.
Reaching a market cap of $155 billion would already put Alibaba ahead of some of its largest tech competitors. Currently, eBay Inc. (Nasdaq: EBAY) has a market cap of just $65 billion. The Chinese e-commerce giant (and Alibaba competitor) Tencent Holdings Ltd. (OTCMKTS: TCTZF) is a $147 billion company. Baidu Inc. (Nasdaq ADR: BIDU), China's largest search engine, is less than half the size of Alibaba at $76 billion. 
And that $155 billion valuation is accounting for shares being priced in the middle of the range. If BABA stock is priced at $66 or higher next week, the valuation will be much higher...
In August, a Bloomberg survey of analysts had valued Alibaba at $154 billion, which was very close to Alibaba's own projection. That same survey said that the post-IPO valuation could reach $200 billion.
Crossing the $200 billion threshold would put Alibaba near some of the world's largest tech firms...
Facebook Inc. (Nasdaq: FB) has a market cap of $202 billion, which is notable because the Facebook IPO has been repeatedly used as a measuring stick for Alibaba. Facebook's $16 billion initial public offering in 2012 currently stands as the largest tech IPO of all time. The Alibaba IPO price should easily surpass that, and the company's value could trump FB's in the coming months.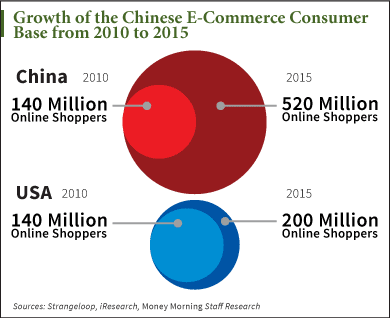 Apple Inc. (Nasdaq: AAPL) currently has a market cap of $607 billion, while Google Inc.'s (Nasdaq: GOOG) is $393 billion, and Microsoft Corp.'s (Nasdaq: MSFT) is $384 billion.
While Alibaba is still a far cry from those tech giants, it could catch up with them in the coming years. Right now, China's Internet industry is experiencing explosive growth - and Alibaba is positioned perfectly to profit from it...
China's Market Will Drive BABA Stock for Years
Online shopping in China reached $298 billion last year, making it the largest e-commerce market in the world ahead of the United States' $263 billion.
"Alibaba is the dominant e-commerce player in a marketplace - China - that's seeing incredible growth in online commerce," Money Morning's Executive Editor Bill Patalon said. "According to the research I've seen, e-commerce in China is projected to hit $540 billion by 2015, and that's just for starters. By 2020, China's e-commerce market will be worth more than the United States, the United Kingdom, Japan, Germany, and France combined. So we know that growth is coming... and we know that Alibaba is the No. 1 gun."
By 2015, the number of Chinese e-commerce users is expected to hit 520 million - that's more than double the number expected in the United States.
The biggest beneficiary of that growth is undoubtedly Alibaba. Nearly 80% of all online transactions in the country take place over Alibaba's network of sites.
Editor's Note: Many investors are hoping to cash in on the Alibaba IPO by making the "obvious" move. But there's another way. I'm talking about a unique "backdoor" company that most people have never heard of before. Our research shows you can reap huge profits on this play right now - before BABA stock starts trading. Go here to learn more.
Join the conversation on Twitter @moneymorning and @KyleAndersonMM using #Alibaba.
Tags:
Alibaba investing
,
Alibaba IPO
,
alibaba ipo 2014
,
Alibaba IPO date
,
Alibaba IPO price
,
Alibaba IPO size
,
Alibaba Roadshow
,
Alibaba Stock
,
Alibaba valuation
,
Alibaba value
,
baba
,
BABA stock
,
invest in alibaba
,
NYSE: BABA
,
profit from Alibaba
,
upcoming ipo
,
What is Alibaba
The post Alibaba IPO: BABA's Value Is Climbing Past This Tech Giant appeared first on Money Morning - Only the News You Can Profit From.