Action-camera company GoPro Inc. (Nasdaq: GPRO) released more information about its upcoming IPO on Wednesday, saying the company plans to raise up to $427.2 million in the deal. That would give the company a valuation of approximately $3 billion.
In today's regulatory filing, the company said that an IPO price range of $21 to $24 per share has been set. GoPro will be offering 17.8 million Class A shares through the IPO.
GoPro designs wearable cameras that are frequently used to film extreme sports. Based in San Mateo, Calif., GoPro was founded in 2004 by surfer and now-billionaire Nick Woodman.
The company's products have made high-profile appearances with extreme-sport athletes including Olympic snowboarder Shaun White and world-champion surfer Kelly Slater. Stuntman Felix Baumgartner filmed his highly publicized space freefall in 2012 with a GoPro camera. That footage was used in a 2014 Super Bowl commercial.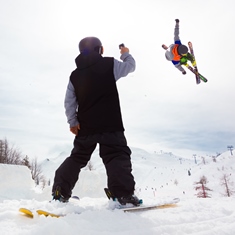 The company plans to list on the Nasdaq under the ticker "GPRO." Company officials stated that proceeds from the IPO will be used to repay debt and for investment purposes. JPMorgan Chase & Co. (NYSE: JPM), Citigroup Inc. (NYSE: C), and Barclays Plc (NYSE ADR: BCS) are serving as the lead underwriters on the deal.
GoPro originally filed for its IPO confidentially in February. The U.S. Securities and Exchange Committee allows companies with less than $1 billion in annual sales to file for an IPO without disclosing all of its financial information.
In May, the company filed publicly and announced that it had booked nearly $986 million in revenue during 2013. At the time, Woodman stated that GoPro had doubled revenue every single year since the company began selling cameras in 2004.
Woodman's claim wasn't far off. In 2012, the company brought in around $500 million in sales. And GoPro is on pace to top the $1 billion mark this year after posting $236 million in the first quarter of this year.
But it isn't just impressive revenue gains that make GoPro an IPO worth watching. Here are some other factors that could send GPRO stock higher when it hits the market...
The Most Important Figures Behind the GoPro IPO
Plenty of companies file for IPOs when they have huge revenue streams, but not every company is profitable.
According to Sundial Capital Research's Jason Goepfert, 83% of the companies that went public in the first quarter of 2014 were not profitable.
That's not a problem for GoPro. In 2013, the company reported profit of $60 million, and in the first quarter of this year, profit stood at $11 million. Granted, last quarter's profits were down from the $23 million profit it reported in Q1 of 2013, but the fact that GoPro is profitable at all at sets it apart in the IPO market.
Another important factor for GoPro investors is the company's market share. Currently, GoPro accounts for 54% of the action camera market, according to International Data Corp. (IDC). While it's a niche market, the same research firm reported that the action camera market grew by 70% in 2013 alone.
The fact that GoPro is the most recognizable brand in a market expanding that quickly is a bullish sign for investors.
Finally, Woodson has already hinted at the next phase of the company's strategy, telling The New York Times that GoPro plans on becoming a diversified media company.
GoPro shares an abundance of footage captured on its cameras through its YouTube channel, which has already amassed 470 million views and 1.8 million subscribers. According to Michael Pachter of Wedbush Securities, GoPro would like to create its own programming channel for either cable TV networks, satellite TV networks, Netflix Inc. (Nasdaq: NFLX), or Amazon.com Inc.'s (Nasdaq: AMZN) streaming service.
GoPro has an established demand for its products and footage and is part of a minority of companies this year that will IPO while profitable. Factor in its market share in a growing market, and the GoPro IPO could be one of the most successful IPOs of the year.
Is the GoPro IPO something you would be interested in investing in? Share your thoughts on Twitter @moneymorning using #GoPro.
The European Central Bank has just entered uncharted waters and is attempting to employ "unconventional" policies to kick-start the economy. But no matter what happens, we'll make money... here's how.
Related Articles:
Tags:
$BCS
,
$C
,
AMZN
,
Best IPOs 2014
,
GoPro IPO
,
GoPro IPO filing
,
GoPro IPO price
,
GoPro stock
,
GPRO
,
GPRO stock
,
hot ipos
,
investing in ipos
,
IPO calendar
,
IPO Calendar 2014
,
IPO Dates
,
ipo dow jones
,
IPO investing
,
IPO List
,
ipo market
,
IPO market 2014
,
IPO news
,
IPO price
,
IPO Stock Options
,
IPOs
,
ipos 2014
,
JPM
,
List of IPOs
,
nasdaq IPO
,
nasdaq ipo filings
,
Nasdaq: GPRO
,
new ipo nasdaq
,
new tech ipos
,
NFLX
,
pre ipo stock options
,
social media IPOs
,
upcoming ipos
,
what is an ipo stock
The post GoPro IPO Price Could Be a Steal for Investors appeared first on Money Morning - Only the News You Can Profit From.