Through today, 111 initial public offerings have taken place in the United States this year, making 2014 the busiest year for the IPO market since the "dot-com" era of 1999 through 2001.
Aside from 2014, the busiest year in the last decade was 2007, when 86 companies went public through May. This year has already outpaced 2007 by 29%, and there are still five full trading days remaining in May.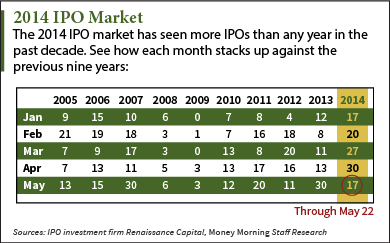 In the full year of 2007, there were 213 companies that held initial public offerings. If 2014 maintains its current pace, more than 275 companies will end up hitting the market this year.
And so far, the 2014 IPO market has outgained the broader markets...
On average, this year's IPOs have experienced a 3.3% gain since they went public. While that gain is somewhat modest, it compares to a 0.3% loss for the Dow Jones Industrial Average, a 2% gain for the S&P 500, and a 1.1% loss for the Nasdaq.
But not every IPO has brought in modest returns - some have given early investors huge profits in just a short period of time. Zoes Kitchen Inc. (NYSE: ZOES) is up 94% since hitting the market on April 10. Zendesk Inc. (NYSE: ZEN) has gained 91% since May 14, and Genocea Biosciences Inc. (Nasdaq: GNCA) is up 57% from Feb. 4.
So far, the healthcare industry has led the way with 42 IPOs to date. The technology sector has seen 29 companies hit the market in 2014, while the financial sector is third with 13 IPOs.
But a more staggering number indicating just how big 2014's IPO market is has been the amount of money raised so far.
Through May 22, a combined $22.4 billion has been raised by this year's IPOs. That's up 33% from this point in 2013. Last year had previously been the biggest year for IPOs in a decade, raising $54.9 billion.
So far, 2014 is on pace to crush that.
"The US IPO market got off to a record start in the 1Q 2014, surpassing all historical first quarter activity since 2000 as biotech and tech firms rushed through a window opened by growth-hungry investors," analysts at IPO investment research firm Renaissance Capital wrote. "Looking ahead, biotechs will be abundant, but the U.S. IPO market should continue 2013's strong showing of technology firms and trend toward larger deals, including leveraged buyouts, notable spinoffs and Chinese firms."
Even though more than $22 billion has already been raised, we've barely scratched the surface for how much money will flood into this year's IPO market.
Because some huge deals are expected later in 2014...
2014 IPO Market: Companies to Watch Now
Two major cloud computing companies, DropBox and Box, are both expected to hold high-profile IPOs in the second half of 2014. Both companies allow personal and corporate clients to store various amounts of data via the cloud for a monthly fee.
When Box filed for its IPO in late March, it reported revenue of $124.2 million in 2013, which was up 111% from 2012. Estimates place Box's value at less than $5 billion. DropBox has yet to file for an IPO, but it did complete a $250 million round of funding that valued the company at $10 billion in January.
Another company IPO investors are watching is Spotify, which announced this week that it surpassed 40 million active users, 10 million of which are paying subscribers. That's up from 24 million active users and 6 million paid subscribers last year. The music-streaming company has raised more than $500 million through funding efforts and has been valued near $4 billion.
While those IPOs may be huge, you can't discuss the 2014 IPO market without highlighting Alibaba Group Holding. Not only will this Chinese e-commerce public offering be the defining IPO of 2014, it may be the biggest U.S. IPO of all time...
The 2014 IPO Market Could Deliver the Biggest U.S. IPO Ever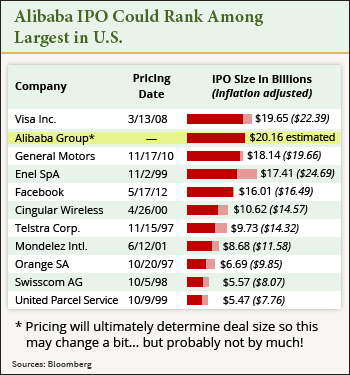 Analysts are expecting the Alibaba IPO to raise more than the $16 billion

Facebook Inc. (Nasdaq:

FB

)

raised in 2012, which would make it the largest Internet IPO of all time.

But the projections don't stop there...

According to Bloomberg, the Alibaba IPO could raise $20.16 billion. That would outpace the Visa Inc. (NYSE: V) IPO, which raised $19.65 billion in 2008. It would also nearly double the amount raised by the entire 2014 IPO market. Through May, 111 companies have raised $22.4 billion. Alibaba alone could bring that total to $42.56 billion.

When the company filed its prospectus on May 5, it reported having 231 million active users who spent more than $248 billion over its platforms in 2013. That's more money than was exchanged on Amazon.com Inc. (Nasdaq: AMZN) and eBay Inc. (Nasdaq: EBAY) combined.

Alibaba also reported revenue of $6.5 billion and net income of $3.2 billion for the first nine months of its current fiscal year. With more than 21,000 employees, Alibaba is the largest e-commerce company in China, which is the world's second-largest e-commerce market.

"Alibaba is a company that is going to come out with the size, scope, and scale to Amazon, eBay and Facebook, and still have room for lunch," Money Morning's Chief Investment Strategist Keith Fitz-Gerald said. "Alibaba has an extraordinary 2% of Chinese GDP all by itself, and it's just getting started. In contrast to other social media IPOs or e-IPOs, this one I'm really excited about because there's real revenue backing this thing up, and there are 800 million Chinese citizens coming online by the end of this year."

Usually, it's almost impossible for retail investors to get in early on hot IPOs. Investment banks that underwrite the IPOs will often save shares for their best clients, or "ultimate insiders," leaving the average investor on the outside looking in.

But Money Morning's experts have found a way for retail investors to get in early on the Alibaba IPO. In fact, you can start profiting before Alibaba even hits the market...

Our newest research has led us to a way for you to make a fortune on the Alibaba deal right now... long before the shares go public. Your gains, in fact, could exceed those of the IPO's original investors. It could be your one and only chance to make the kinds of gains normally reserved for the high-net-worth investors and bankers. You can learn more about this Alibaba profit play here.

Have you been investing in the 2014 IPO market? Which upcoming IPOs are the best profit opportunity? Join the conversation on Twitter @moneymorning using #IPOs.

Related Articles:
Tags:
2014 IPO market
,
Best IPOs 2014
,
hot ipos
,
Initial Public Offering
,
investing in ipos
,
IPO calendar
,
IPO Calendar 2014
,
IPO Dates
,
ipo dow jones
,
IPO investing
,
IPO List
,
ipo market
,
IPO market 2014
,
IPO Market Today
,
IPO news
,
IPO Stock Options
,
IPOs
,
ipos 2014
,
List of IPOs
,
nasdaq IPO
,
nasdaq ipo filings
,
new ipo nasdaq
,
new tech ipos
,
pre ipo stock options
,
social media IPOs
,
upcoming ipos
,
what is an ipo stock
The post 2014 IPO Market: What to Watch and How to Profit Now appeared first on Money Morning - Only the News You Can Profit From.