While you might not know anything about Jack Ma right now, you'll be hearing a lot about him very soon.
That's because Ma is the man who has helped Alibaba become one of the world's largest e-commerce companies - one that will make many people rich when it goes public later this year.
The Alibaba IPO will be one of the largest Internet IPOs of all time. It could even eclipse the $16 billion public offering of Facebook Inc. (Nasdaq: FB) from 2012.
Here's how Jack Ma ended up heading a $168 billion e-commerce giant.
Who Is Jack Ma?
The man behind China's largest online retailer had an inauspicious start.
Jack Ma was an English teacher in his hometown of Hangzhou until 1995.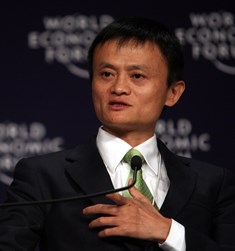 When Ma first used the Internet, his initial search for the word "China" returned no results. Intrigued, Ma began working on a simple Chinese translation website.
Without any prior computing experience, Ma then created a site called "China Pages." It was an index of Chinese businesses. It was also one of the country's first registered Internet companies.
In 1999, Ma gave Internet business another try. That's when Ma created Alibaba.com, a business-to-business website that allowed Chinese exporters to sell to overseas customers.
The company started small - with 17 friends in Ma's apartment - but the founder's tenacity was apparent from the beginning.
"We will make it because we are young and we never, never give up," Ma is seen telling employees in the documentary "Crocodile in the Yangtze."
Ma brought in Joseph Tsai to help run the business. Established U.S. and Asian companies then began investing in the company.
Alibaba.com reached another major development in 2003. It unveiled the site Taobao. Unlike Alibaba.com, Taobao is a consumer-to-consumer business that was designed to rival the American company eBay Inc. (Nasdaq: EBAY).
And from its inception, Ma was determined to take down eBay in China with Taobao. Ma kept the site free for consumers, unlike eBay, which charges fees for its services. Even when the site was losing money, Ma stuck with the business plan, determined to eat away at eBay's market share in China.
It worked. By 2005, Taobao controlled 70% of the Chinese market, forcing eBay to fold its Chinese operations in 2006.
Regardless of the size of his competition, Ma has not shied away from a challenge.
"I had always wished that I was born in a period of war. I could have been a general," Ma told The New York Times. "I thought about what I could have achieved in war."
After Taobao, Alibaba Group Holding Ltd. continued to expand its network of sites. In 2008, the company announced Tmall.com, a business-to-consumer retail website. In 2012, the combined transaction volume of Tmall and Taobao surpassed the combined volume of Amazon.com Inc. (Nasdaq: AMZN) and eBay.
While Jack Ma's determination has been well-documented, he's not all business. He's been known to take the stage at company events in wild outfits, crooning for the thousands of employees in attendance. At the company's 10-year anniversary party he dressed as a punk rocker and sang a tune from "The Lion King."
Jack Ma stepped down from his role as the CEO of Alibaba in 2013 so he could focus on philanthropy, saying he's "no longer young for the Internet business," but he still shapes the company's strategy and maintains the title of executive chairman. He also owns an 8.9% stake in Alibaba and will remain the face of the company as it continues to grow...
"I thought it would be easier when I stepped down from CEO," Ma told The Wall Street Journal, "But now I'm finding out being a chairman, if you want to be a good chairman, is much busier than being a CEO."
And with what's ahead for Alibaba this year, Ma still has a big job to do...
The Alibaba IPO: "As Big As It Gets"
When Alibaba officially filed for its IPO last week, investors got a glimpse behind the curtain of Jack Ma's empire. And the numbers were staggering.
Alibaba is currently the largest e-commerce company in China, which is the world's second largest e-commerce market. In the fiscal year 2013, the company reported revenue of $5.6 billion and has already reported revenue of $6.5 billion for the first nine months of its current fiscal year.
The Alibaba IPO is expected to be one of the largest Internet IPOs of all time. Here are the factors driving the Alibaba IPO price higher.
"Alibaba controls an extraordinary 2% of Chinese GDP all by itself, and they're just getting started," Money Morning's Chief Investment Strategist Keith Fitz-Gerald said. "In contrast to a lot of the other e-IPOs, I'm really excited about this one because there is real revenue backing Alibaba. There are also 800 million people coming online in China by the end of this year."
In 2013, the company reported 231 million active users. That total is guaranteed to grow as the number of Internet users in China grows to 800 million.
And Ma isn't just growing Alibaba's e-commerce business. The company has spent more than $3.5 billion on its last seven acquisitions, which have brought Alibaba into finance, the mobile industry, the online-video industry, the cable TV industry, and even brick-and-mortar retail. The company has also purchased more than 100 U.S. patents, which will help the company enter the U.S. market.
Ma may not be experienced in all of these industries, but to him that doesn't matter. After all, he did create an Internet empire without any computing background.
"Innovation in many industries has been triggered by outsiders," Ma wrote in a June 2013 article in Communist Party's official newspaper The People's Daily. "The finance industry needs a disrupter, it needs an outsider to come in and carry out a transformation."
That determination and strategy has helped Jack Ma turn his initial Internet curiosity into a 21,000 employee corporation. And it's still apparent in the letter he wrote to employees after filing for the IPO.
"We know well we haven't survived because our strategies are farsighted and brilliant, or because our execution is perfect, but because for 15 years we have persevered in our mission of 'making it easier to do business across the world,' because we have insisted on a 'customer first' value system, because we have persisted in believing in the future, and because we have insisted that normal people can do extraordinary things," Ma wrote.
Does Jack Ma's leadership impact how you view the Alibaba IPO? Join the conversation on Twitter @moneymorning using #Alibaba.
The Alibaba IPO has officially been filed, and investors learned a great deal about the company in its prospectus. But there are still some questions that need answering...
Tags:
Alibaba
,
Alibaba IPO
,
alibaba ipo 2014
,
Alibaba IPO date
,
Alibaba IPO filing
,
Alibaba IPO price
,
investing in alibaba
,
Investing in Alibaba 2014
,
Investing in Alibaba today
,
Investing in the Alibaba IPO
,
Jack Ma
,
who is Jack Ma
The post Meet Jack Ma, the Man Behind the Alibaba IPO appeared first on Money Morning - Only the News You Can Profit From.