It's becoming one of the biggest battles in high tech today: In one corner is the world's largest software company, and in the other is a global entertainment and electronics giant.
Of course, I'm talking about the growing rivalry between the Xbox One from Microsoft Corp. (Nasdaq: MSFT) and PlayStation 4 from Sony Corp. (NYSE ADR: SN).
Last week, Microsoft said it sold 2 million Xbox One consoles in this year's first quarter. That brings total worldwide sales to about 5 million units in roughly three short months.
However, Sony now appears to have the sales lead. Over roughly the same period, it sold nearly 7 million of its PlayStation 4s.
Gamers and industry analysts alike are parsing all sorts of stats - like total sales to stores vs. actual players - to say one platform or the other is truly ahead.
But we've found a way to make money no matter which entrant ultimately becomes the top seller. And it's about as close to a "sure thing" as you'll find in tech investing.
In fact, shares of the mid-cap tech firm we're going to tell you about today could easily double from here - and for one simple reason.
This company supplies components that are critical to both gaming systems.
Gaming the System
Honestly, the term "gaming" may be something of a misnomer. This is actually a very serious industry.
Roughly two-thirds of all U.S. households play video games, according to data from the Entertainment Software Association trade group.
And tech researcher Gartner estimated the global video game market jumped from $79 billion in 2012 to $93 billion in 2013 - a surge of 18%. Gartner is forecasting sales will reach $111 billion by the end of 2015, which works out to a four-year sales gain of 40%.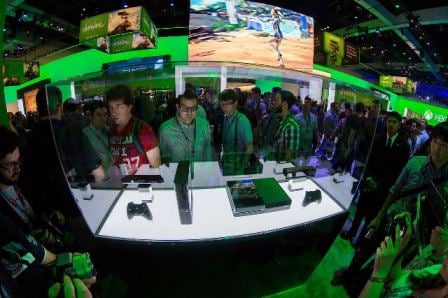 In January, research firm DFC Intelligence said the gaming sector was doing even better than it expected, thanks to an increasing "crossover" between gaming systems and PCs.
DFC analyst Jeremy Miller has said that "core gamers seem to be willing to spend more money than ever." And while Asia remains a big contributor to the market, DFC found that core PC gameplay in Western markets did increase, in fact, last year - and will fuel big gains in 2014.
Said Miller: "We actually think the launch of the new console systems will help lift the PC game business because there is large overlap between console and PC gamers."
Clearly, the success of Xbox and PlayStation is important for both the industry and for tech investors. But finding a firm that supplies both gives you strong odds of a victory.
And we found a firm that does just that.
Sunnyvale, Calif.-based chip maker Advanced Micro Devices Inc. (NYSE: AMD) supplies the circuitry powering the intense graphics for both the Xbox and the PlayStation.
A "Special Situation" Tech Investing Play
For years, AMD tried to play a Silicon Valley version of "King of the Hill" with heavyweight Intel Corp. (Nasdaq: INTC).
And every now and then AMD landed some punches.
But its inability to go all 12 rounds with the champ and the whole PC-sector slowdown combined to sting AMD badly.
Fortunately, the company had a fallback strategy.
AMD has long been known for its fast and powerful graphics chips. And that's why its chips power all advanced gaming platforms being shipped today.
This deep expertise helped AMD beat Wall Street's expectations when it reported first-quarter results on April 17. The Street had forecast a breakeven quarter. But AMD said it earned $0.02 a share (non-generally accepted accounting principles) on sales of $1.4 billion.
AMD's Graphics and Visual Solutions segment was the big winner here with sales of $734 million, a 118% increase from the year-ago period. Many of these chips are "semi-custom," meaning they're designed with a specific console in mind. Clients pay extra for that level of service - which we like to see. The division had operating margins of more than 12%.
This is all good news for AMD. This is a company that has continued to push the performance boundaries even as it has struggled financially in recent years.
As such, investors should think of AMD as the kind of "special situation" we've talked about in the past - in this case, a corporate turnaround.
Overhauling a company is a process - one that requires the company to win lots of little bouts along the way. And those winds often involve a shift in strategy, including a change in management.
AMD is no different. Winning spots in both Xboxes and PlayStations followed two other crucial events that combined to put the company back on a winning path. The first of those two events was the arrival of a new chief executive officer. And the second was the turnaround plan that this executive subsequently introduced.
CEO Rory Read joined the company in August 2011 from fast-growing PC maker Lenovo Group Ltd. (OTCMKTS ADR: LNVGY), where he had served as chief operating officer (COO).
While at Lenovo, Read led a major turnaround highlighted by increases in sales and market share. With Read as COO, Lenovo logged seven straight quarters as the world's fastest-growing PC supplier.
Before that, Read spent 23 years as an executive at IBM Corp. (NYSE: IBM). As managing partner for IBM's Business Consulting Services Industrial Sector, he generated double-digit revenue growth and operating profitability.
Shortly after his arrival at AMD, Read brought in three new senior leaders to round out his team. They come from Dell Inc., Freescale Semiconductor Ltd. (NYSE: FSL), and the noted consulting firm McKinsey & Co.
In October 2012, AMD announced a major restructuring plan designed to drive down costs and restore profitability. As part of this new game plan, the company punched out 14% of its work force and consolidated operations.
But it wasn't just a cost-cutting play. Read said he would generate new growth by moving AMD beyond its traditional markets of laptops and desktop computers.
He's kept his word, in part by delivering the high-speed processors used in the data centers that make cloud computing a reality.
"The cloud" is a technological innovation that delivers applications and data to clients from remote data centers. Forrester Research predicts cloud computing will soar from a $41 billion business, back in 2011, to $241 billion in 2020. That's an increase of roughly 487% in just a decade.
So far, Read's plan is working out great. Consider that, in 2012, AMD got only about 9% of its sales from nontraditional devices.
By the end of last year, roughly 30% of AMD's sales came from "growth markets." These markets include professional-grade graphics, semi-custom chips, and embedded systems for things like casino gaming machines.
And of course, high-speed, low-power chips designed for data centers that handle massive amounts of web-based traffic.
And to make those server chips even more powerful, AMD recently turned to another industry heavy weight: ARM Holdings PLC (Nasdaq ADR: ARMH), one of the world's foremost chip designers.
Read first disclosed AMD's relationship with ARM back in late 2012. That tag-team partnership is now generating results, with a server chip code-named "Seattle" slated for delivery in the second half of this year.
It's all part of an extremely ambitious cloud-focused plan to capture as much as 25% of the market for server-focused semiconductors in the next few years. That's roughly a fivefold increase in market share from what AMD had at the end of 2012, the last date for full industry stats, according to investment research firm Trefis.
And the ARM alliance follows another bold move Read made to beef up AMD's cloud-based offerings. In early 2012, AMD bought SeaMicro Inc., a maker of high-speed microservers designed to save on power and space.
AMD's SeaMicro division now counts Verizon Communications (NYSE: VZ) as a key client. The telecom giant is using SeaMicro servers in seven of its data centers.
Here's where the whole AMD growth gambit gets really interesting.
Advanced Micro Devices (NYSE: AMD) Is Gunning for Growth
As Read and AMD see it, the markets for cloud computing and advanced gaming are not separate areas.
In fact, these markets - and others, besides - are just pieces of an overall technology "ecosystem."
That's because gaming consoles are "smart devices" that connect to the web. And that means these consoles can also be used for online shopping, for streaming movies, for data storage and retrieval, and for a whole host of other uses - some of which haven't even been conceived yet.
And these days gaming is itself becoming a cloud experience because many hard-core gamers like to play against others on the web.
But they still need advanced graphics cards on their devices to capture the action in the high-definition format. That's where AMD's Radeon Sky Series graphics cards come into play: They are designed to stream six games simultaneously - each in high-def.
With AMD, therefore, we have to stop worrying about which gaming system will "win" - and focus instead on the fact that we have a chance to invest in the sector's clear leader. And that will allow us to take advantage of the global boom for "next-gen" video games and consoles.
Trading at about $4.15 a share, AMD has a $3 billion market cap. It has a forward price/earnings (P/E) ratio of 18, roughly in line with the overall tech sector.
Over the past three months, the stock has gained 23%. But I still see plenty of upside. The stock has a price/earnings to growth (PEG) ratio of 0.61, well below the "fair value" figure of 1.
Plus, if it just got back to its five-year closing high of $9.91 - reached back in December 2009 - you'd have better than a double from here.
Given its stranglehold on gaming and its move to the cloud, I believe AMD can pull it off.
Doubling your money when you don't have to pick the winner... well, I think that makes AMD a tech investing champion.
Today's Top Story: SEC Chair Mary Jo White said Tuesday that high-frequency trading is not unlawful and the markets are not rigged. It could be that she's just blind, or deluded... Or it could be that the SEC actually profits from high-frequency trading...
Tags:
Advanced Micro Devices stock
,
AMD stock
,
best tech investments
,
Best Tech Investments 2014
,
best tech stocks
,
best tech stocks 2014
,
best tech stocks to buy
,
best tech stocks to buy now
,
best tech stocks today
,
Investing in Tech Stocks
,
Nasdaq: AMD
,
tech investing
,
tech investments
,
tech ipos
,
tech penny stocks
,
tech stocks
,
tech stocks 2014
,
tech stocks to buy
,
tech stocks to buy today
,
tech stocks today
,
top tech stocks
The post Tech Investing: No Matter Who Loses This Silicon Valley Battle… You'll Win appeared first on Money Morning - Only the News You Can Profit From.