In his first "report card" since taking the reins of Microsoft Corp. (Nasdaq: MSFT) in February, CEO Satya Nadella showed why he was exactly the right choice to get MSFT stock moving again. 
Microsoft beat expectations when it reported earnings yesterday (Thursday) after the market close mostly on the strength of its cloud computing products – Nadella's area of expertise, and the single most promising business segment for the Redmond-Wash.-based tech giant.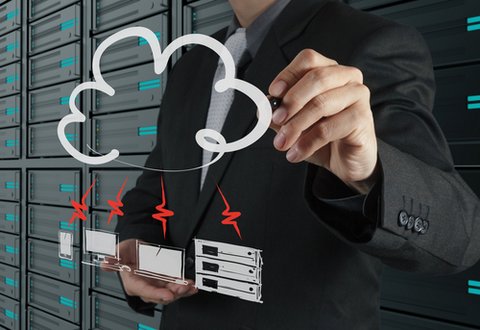 Business customer revenue from Microsoft's cloud-based Office 365 productivity suite more than doubled, and revenue from Azure, its collection of cloud-based services, rose 150%.
"The growth of [the cloud] matters to us the most in this time where I think there's just a couple of us really playing in this market," Nadella said during the earnings conference call yesterday. "I mean, this is gold-rush time in some sense in being able to capitalize on the opportunity."
Success in the cloud could be true catalyst for Microsoft stock, which stagnated in the decade when CEO Steve Ballmer was running the company.
Wall Street clearly was pleased with Nadella's first quarter at the helm, driving MSFT stock up nearly 3% in after-hours trading Thursday evening. Microsoft stock held on to a 1% gain Friday despite a down market.
MSFT is up 8% since Nadella took control of the company, and 19% since Ballmer announced his decision to step down. Microsoft stock is now trading north of $40 a share, well above the $30 range where it remained mired for years.
As for the actual earnings numbers, Microsoft reported earnings per share of $0.68, or $5.66 billion. That beat expectations of $0.63, though it was a decline from the year-ago quarter earnings of $0.72.
Revenue was $20.4 billion, in line with expectations and down slightly from last year.
The Devices and Consumer division, which includes copies of Windows sold to consumers, Office 365 Home, Xbox and Bing, increased revenue 12%. There was a surprising amount of good news here, as Office 360 Home added 1 million subscribers and Bing grew its market share of search to 18.6%, with search advertising revenue rising 38%.
Meanwhile, revenue from the Commercial division, which includes Office 365 and Windows licensing to businesses as well as Azure services, grew 7%.
"It's a good first quarter of earnings for Satya out of the box," analyst Shannon Cross of Cross Research told ABC News. "This was enough to offset concerns that investors might have had that growth was slowing or the impact Amazon or other competitors might be having on the cloud strategy."
And this could be just the start for Microsoft stock, according to Money Morning Capital Wave Strategist Shah Gilani. Not only does he see MSFT rising to $50 before long, he believes it can get all the way to $100 a share.
How Microsoft (Nasdaq: MSFT) Stock Gets to $100
Gilani has had his eye on Microsoft since last summer, when he first recommended the stock and predicted that big changes were coming that would push MSFT higher.
His timing was uncanny. Within days Microsoft announced a major reorganization, and a month after that Ballmer announced his intent to retire.
But Gilani sees much more upside for MSFT. The next phase, he believes, will be a five-year ride to $100.
"Getting to $100 is an "out with the old, in with the new" type of deal... and it has to do with CEO Nadella," Gilani said. "Getting to $100 a share is about little things like deciding to make and give away for free Office Excel, PowerPoint, and Word to iPad users and to 'upgrade' them for a price to the full suite of Office 360 products. That shows MSFT's ability to realize how to expand its legacy products."
In addition to liking the company's fresh, growth-oriented strategies, Gilani also likes how Microsoft uses its cash.
"Over the last 10 years, MSFT's cash return on invested capital has risen to 93%. That means that, for every $1 of capital it has invested, Old Mr. Softy has been able to generate 93 cents in cash. Yeah, you heard that right. Over the last 10 years, Mr. Softy had been a cold, hard cash machine," he said.
Gilani also expects Microsoft to continue its quest for vertical integration by adding more hardware products, as we've seen with its Surface tablets and the deal to acquire Nokia Corp.'s (NYSE ADR: NOK) handset business, which closed today.
"All the company's devices are terrific. The only problem some of them have is that they carry the Microsoft brand... and that can elicit a visceral reaction from some consumers," he said. "But their products are just too good for users to ignore. And there are more moves coming. Folks will see that I'm right about MSFT being one of the best stocks to buy now."
What did you think of Microsoft's earnings? Can you see MSFT stock getting to $50 within one year, and all the way to $100 in five years? Let us know on Twitter @moneymorning or Facebook.
Some believe that Microsoft and long-time frenemy Apple are two companies going in opposite directions – that Apple stock will now enter a period of stagnation while Microsoft stock starts moving again. This is what's keeping Apple CEO Tim Cook up at night…
Related articles:
The Associated Press:

MarketWatch:
Tags:
best tech investments
,
Best Tech Investments 2014
,
best tech stocks
,
best tech stocks 2014
,
best tech stocks to buy
,
best tech stocks to buy now
,
best tech stocks today
,
Cloud computing
,
Hot Stocks
,
Investing in Tech Stocks
,
Microsoft earnings
,
microsoft stock
,
MSFT
,
msft stock
,
Nasdaq: MSFT
,
Satya Nadella
,
Stocks to Buy
,
Stocks to Buy Now
,
tech investments
,
tech ipos
,
tech penny stocks
,
tech stocks
,
tech stocks 2014
,
tech stocks to buy
,
tech stocks to buy today
,
tech stocks today
,
top tech stocks
The post Future of Microsoft (Nasdaq: MSFT) Stock Hinges on the Cloud appeared first on Money Morning - Only the News You Can Profit From.