Tech investing in 2014: If you're like most Americans, you're being eaten alive by zooming food prices.
Thanks to a three-year drought in California - the state that accounts for between 85% and 99% of most of this country's fresh produce - every trip to the supermarket has turned into a financial flogging for U.S. consumers. In fact, vegetable prices have jumped 50% in the past month alone.
If this bout of supermarket inflation were limited to produce, we could probably live with it.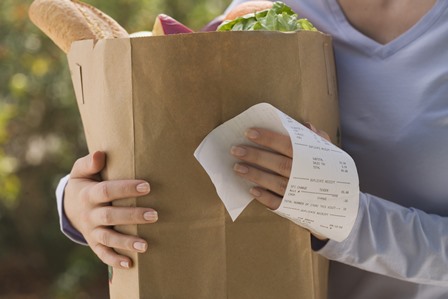 But it's everything.
Since 2011, Washington tells us that the general level of prices - Beltway-speak for "inflation" - have risen 6.4%. Ground beef is up about 17%, chicken more than 18%, and bacon nearly 23%. The West Coast drought and a really lousy winter in the Midwest have combined to make a bad situation even worse.
Dairy prices are rocketing, too - thanks to growing demand from Asia, and particularly from China. The boom in exports - combined with the fallout from the drought here at home - have tightened the supplies of dairy products and have sent prices skyward. Although U.S. dairy exports have surged 19% by volume, they've zoomed by 31% by value - reaching $6.7 billion, according to the latest reports.
And I'm betting you feel the pinch every time you walk down the dairy aisle at your favorite supermarket.
Today I'm here to help ease that pain. I've found a food-related tech investing opportunity that will put some of that money back into your pocket.
This is a profit play you can feel good about holding: The small-cap firm is a global leader in food and agriculture technology, and its offerings help make sure the food sector's crops, animals, and products are clean, safe, and healthy.
In my book, that's a winning combination...
A "Classic" Investing Strategy
If you've been in the markets for any length of time - and I know that lots of you folks have - you're familiar with the whole pick-and-shovel approach to investing.
With that strategy, you don't buy the companies that make the products in a given sector - you invest in the companies that help those producers make the best products possible.
The strategy got its name back in the California Gold Rush days: The people who made the biggest fortunes were the merchants who sold the picks, shovels, pots, and pans to the "Miner Forty-Niners" - the risk-takers who went out and panned for gold, often with dismal results.
In our search for today's profit play, we embraced pretty much that same philosophy.
We wanted to find a food-related supplier that offered the same sort of "enabling" products and services to food producers.
And here's the tech investing play that we found:
It's Lansing, Mich.-based Neogen Corp. (Nasdaq: NEOG) - a company I've been watching for a very long time.
What Gets Me Excited About this Tech Play
Money Morning Executive Editor Bill Patalon - one of my closest colleagues here at Money Map Press - says he can tell when I've zeroed in on a recommendation that I really like because he can hear the excitement in my voice. In fact, he refers to it as the "exuberance of discovery."
And Bill certainly got an earful this week when I briefed him on Neogen, referring to the company as "the perfect play at the perfect time." We'd been talking about the incessant escalation in food prices that's actually making national headlines.
But as an industry insider, I can tell you that this inflationary story goes even deeper than most folks realize.
You see, the same escalating price forces that are picking our pockets right now are also putting the squeeze on food producers. All of their "inputs" - you know, the "stuff" they need to make their own products - are also zooming in price.
So if there's a supplier out there that can help them control costs... well, that's a company that's going to enjoy most-favored vendor status.
Helping its customer companies control costs is part of what Neogen does. It's also involved in food safety - making it even more indispensable to the companies it sells to.
Specifically, Neogen operates in two main categories: food and animal safety. And that means Neogen touches almost the entire "global ag" ecosystem.
Just take a look at its food-safety division. The unit provides testing for dairy products, for pesticide residue on crops, and for the food-borne pathogens that can sicken or kill livestock and humans alike.
Food safety also includes analyzing genetically modified organisms, testing against mislabeled animal proteins, and inspecting water supplies for the presence of disease-causing microorganisms.
With its animal division, Neogen supplies a laundry list of products designed to better manage livestock - while also keeping animals healthy. For instance, it makes injectables to protect animals against insecticide poisoning and to keep them from suffering from the vitamin deficiencies that can affect their health.
Founded 32 years ago, Neogen also operates a unit focused on a type of science known as "agri-genomics." The term refers to the use of genetic testing to improve safety and yield throughout the ag industry.
All told, Neogen markets about 400 products. And it sells to some of the world's biggest names in agriculture and food products. I'm talking about companies like The Coca-Cola Co. (NYSE: KO), E I Du Pont De Nemours and Co. (NYSE: DD), General Mills Inc. (NYSE: GIS), Kraft Foods Group Inc. (Nasdaq: KRFT), McDonald's Corp. (NYSE: MCD), and Mondelez International Inc. (Nasdaq: MDLZ) subsidiary Nabisco.
That roster of products and customers has helped Neogen maintain an enviable record of organic growth. But it's one of those rare companies that are also capable of making savvy acquisitions - and using those new properties to add growth and stay on the industry's leading edge.
Last year alone, Neogen bought three firms - two that make veterinary instruments and related products and one that supplies insecticides and pest-control systems.
The Keys to Wealth
With its high operating margins, growth through mergers, and expansion into overseas markets that now contribute 40% of sales, I believe that Neogen is on a path to double its stock price from here.
To show you how this will happen, let me run through the five stock-picking filters that serve as the foundation for my wealth-building tech investing strategy. These five rules are designed to help you make money in bull markets, in bear markets... and in frustrating markets like the one we're navigating right now.
And we'll take them in order...
Tech Wealth

Rule No. 1

:

Great Companies Have Great Operations:

We're always on the lookout for firms run by excellent leaders who know how to build top-notch franchises. Neogen co-founder and CEO James L. Herbert is a food-safety-technology pioneer. He formed Neogen back in 1982 in concert with a retired Dow Chemical executive. Before that, Herbert had served as a senior executive at an agricultural genetics and energy company. He has a deep background in animal biologics, specialized chemical research, medical instruments, aquaculture, animal nutrition, and poultry-and-livestock breeding and production.

Tech Wealth

Rule No. 2

:

Separate the Signal from the Noise:

To create real wealth you have to ignore the Wall Street hype machine and tune out the false signals that Washington sends our way. For instance, the government's official inflation index greatly understates the impact of higher grocery prices. But rising food costs give Neogen's customers an added incentive to invest in technology that will reduce their costs and bolster their bottom lines. At the same time, Neogen has the strong financials we seek in a great tech investment. With the stock at $41 a share, the company has a market value of about $1.5 billion. NEOG has 18% operating margins and a return on stockholders' equity of 10%. It has nearly $70 million in cash on hand and no debt.

Tech Wealth

Rule No. 3

:

Ride the Unstoppable Trends:

You'll find that the best opportunities for life-changing gains come from sectors that offer long-term growth. Neogen easily passes this test. As Earth's population expands, the demand for food is only going to grow. And because the company employs cutting-edge "bio" technologies, it's the kind of "closet biotech" that will grow much faster than the typical old-world food supplier. The company performs molecular testing, DNA screening, and plant and animal genomics. It also provides such life-sciences-related technologies as medical screening for hormones, steroids, and illicit drugs.

Tech Wealth

Rule No. 4

:

Focus on Growth:

Companies that have the strongest growth rates almost always offer the highest stock returns. In its fiscal 2014 third quarter, Neogen increased sales by more than 21%. Backed by several recent mergers, the animal safety unit increased sales by 32% on a year-over-year basis. Over the past decade, the company has enjoyed a compound-annual growth rate (CAGR) of 14%. Sales have grown on a year-over-year basis in 88 of the past 93 quarters. With that kind of track record, I am confident in forecasting continued strong growth.

Tech Wealth Rule No. 5

: Target Stocks That Can Double Your Money:

This is where we look at what catalysts that give us a realistic opportunity to double our money in a reasonable amount of time. With Neogen, we have a hidden "spark" - or catalyst - that can ignite growth at a pace that's higher than what the Wall Street "pros" are expecting. And that catalyst is mergers and acquisitions (M&A). Having done 26 deals since 2000, it's clear to me that this company understands what to buy and how to run what it acquires. Neogen has been profitable for each of the past 81 quarters. And over the past five years, the company has grown its earnings by 18%. More aggressive deal making could accelerate growth. Company execs know this, and you can bet they have a "shopping list" of targets all the time. But even at its current rate of growth, it will take Neogen only about four years to double its earnings. And since stock prices generally follow earnings, you can figure the company's share price could double in about that same time frame - though I think it will happen faster.
When you get right down to it, this is a tech investing opportunity that does a lot of great things for us. It capitalizes on a very strong trend - rising food prices - which figures to keep the company's sales, profits, and stock price moving higher over the long haul. In doing so, Neogen also offsets an economically hurtful trend that's hitting most folks right in the bank account.
And because we're dealing with a market downdraft of sorts at the moment, we can snap up shares of this stock a nice discount to what I believe they will ultimately be worth.
All in all, this is a hallmark wealth-building stock. And as my colleague Bill here would tell you, there's not much that gets me more excited than that.
More from Michael Robinson: TV pundits have been jabbering on about a tech market "crash," but don't believe the hype. The tech sector will recover... which means some of the best tech investing profit plays are now on sale. It's not time to panic... it's time to buy.
Tags:
best stocks to buy
,
best tech investments
,
Best Tech Investments 2014
,
best tech stocks
,
best tech stocks 2014
,
best tech stocks to buy
,
best tech stocks to buy now
,
best tech stocks today
,
Food Prices
,
Hot Stocks
,
how to invest in tech
,
Inflation
,
investing in tech
,
Investing in Tech Stocks
,
Stocks to Buy
,
stocks to buy 2014
,
tech investing
,
tech investments
,
tech ipos
,
tech penny stocks
,
tech stocks
,
tech stocks 2014
,
tech stocks to buy
,
tech stocks to buy today
,
tech stocks today
,
top tech stocks
The post Give Your Grocery Bill a Kick in the Teeth with This Tech Investing Play appeared first on Money Morning - Only the News You Can Profit From.