It's not hard to find stocks to buy in wearable technology - one of the hottest trends in tech right now.
But finding stocks to buy that aren't already big, popular names is a bit more challenging.
For example, there's Google Glass from Google Inc. (Nasdaq: GOOG), the FuelBand from Nike Inc. (NYSE: NIKE), the SmartWatch from Sony Corp. (NYSE: SNE), and the Gear line from Samsung (OTC: SSNLF).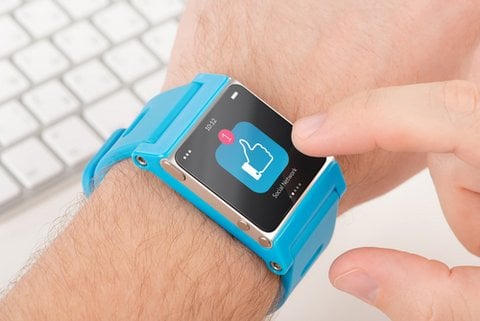 And of course everyone expects Apple Inc. (Nasdaq: AAPL) to come out with an iWatch-type product this year.
But wearable technology products aren't going to have much impact on the stocks of big, diverse companies like these.
And nearly all of the companies that specialize in making wearable technology gear, like Pebble, FitBit, Oculus, and Jawbone are, at least for now, private (Jawbone is said to be preparing for an IPO later this year.)
But this is the best time to be investing in wearable technology - just as the trend is in its early stages of growth.
A Juniper Research study at the end of last year forecast that retail revenue from the wearable technology market will grow from $1.4 billion in 2013 to $19 billion in 2018 - the kind of growth that tends to make stock prices double or triple.
There are stocks to buy that tap into the exploding wearable tech market, but you have to look a little deeper.
Stocks to Buy to Profit from the Wearable Technology Revolution
One of the best ways to invest in wearable technology is to look at the companies supplying the components - screens, microchips, and sensors - to the companies building the products.
Many of these companies also profited from selling those same types of components to the makers of mobile devices like smartphones and tablets.
And the suppliers don't care a whit whether the big winner in wearable technology is Apple or Google or Sony or Samsung or a young startup - they will sell to any and all of them.
The growth of wearable technology (not to mention the Internet of Things) will give such suppliers new sources of growth that should drive their stock prices higher.
Here are five stocks to buy that will benefit from the growth of the wearable technology market:
Qualcomm Inc. (Nasdaq:

QCOM

):

Qualcomm has thrived making microchips for smartphones and tablets and is a trusted brand for any company making wearable technology. And just last week QCOM announced that it would increase its dividend by 20% and its share buyback program by up to $5 billion. QCOM closed at $77.07 Monday.
Himax Technologies Inc.

(Nasdaq ADR: HIMX): Some people may know that Himax supplies liquid-crystal-on-silicon (LCoS) microdisplays for the Google Glass. But that technology has a wide application in wearable technology devices, such as smartwatches, as well as smartphones and even large TV monitors. Although HIMX has soared 242% in the past 12 months, there's still a lot of growth ahead this stock. Earnings per share are expected to rise 68.9% this year alone. HIMX closed at $15.50 Monday.
Broadcom Corp.

(Nasdaq:

BRCM

):

Like Qualcomm, Broadcom's recent strength has been in the tablet and smartphone markets. But Broadcom has been planning ahead, and has created a product line, WICED (Wireless Internet Connectivity for Embedded Devices), specifically targeted at the wearable tech market. BRCM closed Monday at $30.66.
NXP Semiconductors NV (Nasdaq:

NXPI

):

Dutch-based

NXP is better known for its contactless payment technologies, but has plenty of chips that can be used in wearable technology devices. NXPI is up 81% over the past 12 months, but earnings per share growth is forecast to be 25% this year and 36% in the next five years. The stock closed at $57.14 Monday.
Teradyne Inc. (NYSE:

TER

):

Teradyne takes the idea of buying component suppliers of wearable tech one step further back - it makes the testing equipment the chipmakers use in their factories. The surge in new chips that will need to be developed as wearable technology evolves will means lots of business for Teradyne, although that may not be reflected in the stock price right away. TER closed Monday at $19.65.
Do you own any wearable technology yet? Which stocks do you think will benefit most from this major trend in tech? Share your thoughts on Twitter @moneymorning or Facebook.
Tags:
best tech investments
,
Best Tech Investments 2014
,
best tech stocks
,
best tech stocks 2014
,
best tech stocks to buy
,
best tech stocks to buy now
,
best tech stocks today
,
Internet of Things
,
Investing in Tech Stocks
,
investing in wearable technology
,
Nasdaq: BRCM
,
Nasdaq: HIMX
,
Nasdaq: NXPI
,
Nasdaq: QCOM
,
NYSE: TER
,
Stocks to Buy
,
tech investments
,
tech ipos
,
tech penny stocks
,
tech stocks
,
tech stocks 2014
,
tech stocks to buy
,
tech stocks to buy today
,
tech stocks today
,
top tech stocks
,
wearable tech
,
Wearable technology
The post Stocks to Buy: Investing in Wearable Technology from the Inside Out appeared first on Money Morning - Only the News You Can Profit From.