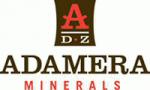 VANCOUVER, BRITISH COLUMBIA -- (Marketwire) -- 03/26/13 -- Adamera Minerals Corp. (TSX VENTURE: ADZ) has identified priority drill targets along an epithermal vein system on the Golden Reward gold property in Okanogan County, Washington State. In addition, several other possible structures have been identified for testing. The Golden Reward property is located approximately 60 kilometres from Kinross's Kettle River mill.
The Golden Reward epithermal gold bearing vein system extends 1.5 kilometres across the property and is composed of highly silicified breccia zones up to 30 metres wide.
Mapping and sampling on the property in 2012 identified vein textures and chemical characteristics that indicate only the upper portions of the vein system are exposed. (See diagram 1 below or click here). At the lowest topographic outcrop exposure, sulfide fragments were identified. Grab samples of this material yielded 14 g/t gold (a nearby historic sample assayed 24 g/t gold). The sulfide fragments suggest that a more extensive sulfide rich high-grade gold bearing zone may exist at depth. The primary drill target on the property is this zone which is interpreted to be at a depth below 100 metres. The conceptual model (See diagram 2 below or click here: http://www.adamera.com/i/pdf/130326NR-Maps.pdf) illustrates Adamera's opportunity at Golden Reward.
"The presence of high grade grab samples containing sulfide fragments indicates that an area(s) of the structure may be well mineralized at depth. Epithermal vein systems are known for pronounced vertical gold grade variations. Thus low grade mineralization at surface can overlie high grade. The opportunity for Adamera is to test the structure at depth for high grade mineralization," says Mark Kolebaba, President and CEO of Adamera.
Recent magnetic surveying indicates possibilities for additional structures on the property that are covered with overburden. Geochemical soil surveying will help determine this.
Several other known epithermal gold and silver occurrences occur in the area surrounding the property. Golden Reward property is within one kilometre of the historic Bodie gold mine.
The gold-bearing structure on the property has been tested with five drill holes from three drill sites in 1989-90. Three of the holes intersected mineralization near the surface and two of the holes steepened and failed to reach the target. The structure has not been properly tested at depth.
Adamera's low cost exploration strategy is designed to discover a significant high grade gold/silver deposit near the Kinross Kettle River Mill in Washington State. The Kinross mill is currently operating at half capacity with supply from Kinross' Buckhorn mine. The Buckhorn deposit has an average grade of 11.3g/t estimated to have only 3-4 years mine life remaining.
Graham Gill P.Geo and Bruce Kienlen P.Geol are the Qualified Persons as defined by National Instrument 43-101 and are responsible for overseeing exploration activity and reviewing data collected on the project. The historical data is from private reports and has not been verified by the Company, however, it appears to have been completed under standard best practices consistent with the time and appears to be of reasonable quality.
On behalf of the Board of Directors,
Mark Kolebaba, President & CEO
Statements in this press release, other than purely historical information, including statements relating to the Company's future plans and objectives or expected results, may include forward-looking statements. Forward-looking statements are based on numerous assumptions and are subject to all of the risks and uncertainties inherent in resource exploration and development. As a result, actual results may vary materially from those described in the forward-looking statements.
The TSX Venture Exchange has not reviewed and does not accept responsibility for the adequacy or accuracy of this release.