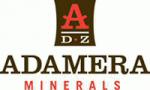 VANCOUVER, BRITISH COLUMBIA -- (Marketwire) -- 02/19/13 -- Adamera Minerals Corp. (TSX VENTURE: ADZ), formerly Uranium North Resources and Diamonds North Resources, announce the amalgamation as proposed on December 5, 2012 (see news release) is complete. Effective at the opening February 19, 2013, the common shares of Adamera Minerals Corp. will commence trading on the TSX Venture Exchange under the symbol 'ADZ'.
"Completion of the merger is a major turning point for Uranium North and Diamonds North shareholders. Adamera's team is focused on progressing the Washington State projects and the company is well positioned to implement its strategy to discover a high grade gold/silver deposit in northeast Washington. Top priority for the company will be to drill our advanced projects near Kinross' operating mill," says Mark Kolebaba, President and CEO of Adamera Minerals Corp.
Adamera's low cost strategy is designed to discover a significant high grade gold/silver deposit near the Kinross Kettle River Mill in Washington State. The Kinross mill is currently operating at half capacity with supply from Kinross' Buckhorn mine. The Buckhorn deposit has an average grade of 11.3g/t estimated to have only 3-4 years mine life remaining.
On behalf of the Board of Directors,
Mark Kolebaba, President & CEO
Statements in this press release, other than purely historical information, including statements relating to the Company's future plans and objectives or expected results, may include forward-looking statements. Forward-looking statements are based on numerous assumptions and are subject to all of the risks and uncertainties inherent in resource exploration and development. As a result, actual results may vary materially from those described in the forward-looking statements.
The TSX Venture Exchange has not reviewed and does not accept responsibility for the adequacy or accuracy of this release.