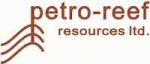 CALGARY, ALBERTA -- (Marketwire) -- 08/02/12 -- Petro-Reef Resources Ltd. (TSX VENTURE: PER) ("Petro-Reef" or the "Company") announces that its recently drilled 11-12-56-27w4 Detrital sand oilwell is now on stream. The initial two weeks of production averaged 160 barrels of oil per day, with three percent water cut. The Company operates and has a 94 percent working interest in the well. It is expected the well will meet its allowable of 125 barrels per day during the initial four month production test period, based on the initial performance and the historic performance of the other wells in the pool.
Petro-Reef is making preparations to drill the next well in the development program, expected to spud in September, at 15-12-56-27w4. Based on 3D seismic interpretation, at least three more additional delineation wells remain to be drilled on the pool. Petro-Reef has also commenced the preliminary work necessary to make an application for a waterflood program on the Detrital sand oilpool. The Company has working interests ranging from 79 to 94 percent on the lands covering the pool.
Current corporate production is 820 barrels of oil equivalent per day, with approximately 59 percent being crude oil and natural gas liquids production.
Petro-Reef also announces that its Annual and Special General Meeting of shareholders will be held on Friday September 7, 2012 at 10:00 am at the Calgary Petroleum Club. The Company will be mailing a new Management Information Circular to the shareholders in early August.
Forward-Looking Statements: All statements, other than statements of historical fact, set forth in this news release, including without limitation, assumptions and statements regarding reservoirs, resources and reserves, future production rates, exploration and development results, financial results, and future plans, operations and objectives of the Corporation are forward-looking statements that involve substantial known and unknown risks and uncertainties. Some of these risks and uncertainties are beyond management's control, including but not limited to, the impact of general economic conditions, industry conditions, fluctuation of commodity prices, fluctuation of foreign exchange rates, environmental risks, industry competition, availability of qualified personnel and management, availability of materials, equipment and third party services, stock market volatility, timely and cost effective access to sufficient capital from internal and external sources. The reader is cautioned that assumptions used in the preparation of such information, although considered reasonable by the Corporation at the time of preparation, may prove to be incorrect. There can be no assurance that such statements will prove to be accurate and actual results and future events could differ materially from those anticipated in such statements.
Reference is made to barrels of oil equivalent (BOE). Barrels of oil equivalent may be misleading, particularly if used in isolation. In accordance with National Instrument 51-101, a BOE conversion ratio for natural gas of 6 Mcf: 1 bbl has been used, which is based on an energy equivalency conversion method primarily applicable at the burner tip and does not represent a value equivalency at the wellhead.
The TSX Venture Exchange does not accept responsibility for the adequacy or accuracy of this news release.