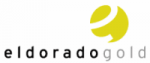 VANCOUVER, BRITISH COLUMBIA -- (Marketwire) -- 02/23/12 -- Eldorado Gold Corporation ("Eldorado") (TSX: ELD)(NYSE: EGO)(ASX: EAU) and European Goldfields Limited ("European Goldfields") (TSX: EGU)(AIM: EGU) today announce that the Supreme Court of Yukon ("Court") has approved their previously announced plan of arrangement ("Arrangement") whereby Eldorado will acquire all the issued and outstanding securities of European Goldfields. The Arrangement was approved by Eldorado and European Goldfields security holders on February 21, 2012.
Under the terms of the Arrangement former European Goldfields shareholders will receive 0.85 of an Eldorado common share and C$0.0001 in cash for each European Goldfields share.
With all required shareholder, court and other regulatory approvals having been obtained, the Arrangement is now scheduled to close on February 24, 2012. The completion of the Arrangement is subject to other customary closing conditions.
About Eldorado Gold
Eldorado is a gold producing, exploration and development company actively growing businesses in Turkey, China, Brazil and Greece. With our international expertise in mining, finance and project development, together with highly skilled and dedicated staff, we believe that our company is well positioned to grow in value as we create and pursue new opportunities.
About European Goldfields
European Goldfields is a developer-producer with globally significant gold reserves located within the European Union. The company generates cash flow from its 95% owned Stratoni operation, a high grade lead/zinc/silver mine in North-Eastern Greece.
ON BEHALF OF ELDORADO GOLD CORPORATION
Paul N. Wright, President and Chief Executive Officer
ON BEHALF OF EUROPEAN GOLDFIELDS LIMITED
Martyn Konig, Executive Chairman and President
None of the securities anticipated to be issued pursuant to the Arrangement have been or will be registered under the United States Securities Act of 1933, as amended (the "U.S. Securities Act"), or any state securities laws, and any securities issued in the Arrangement are anticipated to be issued in reliance upon available exemptions from such registration requirements pursuant to Section 3(a) (10) of the U.S. Securities Act and applicable exemptions under state securities laws. This press release does not constitute an offer to sell or the solicitation of an offer to buy any securities.
Certain of the statements made herein may contain forward-looking statements or information within the meaning of applicable Canadian and US securities laws. Forward-looking statements or information herein include, but are not limited, to statements or information with respect to the expected closing date of the Arrangement. Forward-looking statements and forward-looking information by their nature are based on assumptions and involve known and unknown risks, uncertainties and other factors which may cause the actual results, performance or achievements of Eldorado or European Goldfields to be materially different from any future results, performance or achievements expressed or implied by such forward-looking statements or information. We have made certain assumptions about the forward-looking statements and information, including assumptions about the ability to achieve our goal of concluding this transaction. Even though our management believes that the assumptions made and the expectations represented by such statements or information are reasonable, there can be no assurance that the forward-looking statement or information will prove to be accurate. Furthermore, should one or more of the risks, uncertainties or other factors materialize, or should underlying assumptions prove incorrect, actual results may vary materially from those described in forward-looking statements or information. These risks, uncertainties and other factors include, among others, the ability to satisfy the conditions of the transaction, as well as those factors discussed in the sections entitled "Forward-Looking Statements" and "Risk Factors" in the respective information circulars for the Eldorado and European Goldfields meetings and Eldorado's and European Goldfields' Annual Information Form & Form 40-F, as applicable. There can be no assurance that forward-looking statements or information will prove to be accurate, as actual results and future events could differ materially from those anticipated in such statements. Accordingly, you should not place undue reliance on the forward-looking statements or information contained herein. Except as required by law, we do not expect to update forward-looking statements and information continually as conditions change and you are referred to the full discussion of the Eldorado's and European Goldfields' business contained in their respective reports filed with the securities regulatory authorities in Canada and the U.S.
Request for information packages: reception@eldoradogold.com
Contacts:
Eldorado Gold Corporation
Nancy E. Woo
VP, Investor Relations
604.601.6650 or 1.888.353.8166
604.687.4026 (FAX)
nancyw@eldoradogold.com
www.eldoradogold.com

European Goldfields
Steve Sharpe
SVP Business Development
+44 (0) 20 7408 9534
info@egoldfields.com
www.egoldfields.com

Liberum Capital Limited
Michael Rawlinson / Tom Fyson
+44 (0) 20 3100 2000

Brunswick
Carole Cable / Fiona Micallef-Eynaud
+44 (0) 20 7404 5959
egoldfields@brunswickgroup.com

BMO Capital Markets
Egizio Bianchini / Gary Mattan
+1 (0) 416 359 4001

Lazard & Co., Ltd
Spiro Youakim / Chris Seherr-Thoss
+44 (0) 20 7187 2000