United States - August 3, 2022 —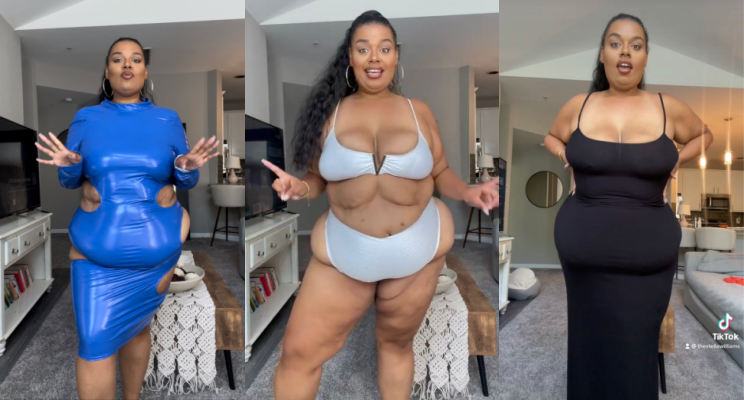 Are we there yet in body positivity and acceptance?
A woman with a self-proclaimed "apple-shaped" body wore the latest dress that set the internet ablaze, advancing the divisive and fat-phobic narrative of why plus-sized is only safe if you're hourglass or "coke-bottle" curvy.
At the center of this freshly-brewed controversy, Stella Williams believes that social media platforms are ideal for continuing the conversation on fat-shaming and censoring plus-sized bodies online.
The 26-year-old content creator and plus-size model regularly posts photos of her body and receives millions of views. She has carved out a place for herself as an entrepreneur, plus-size model, and most recently as a Nike model promoting one of their latest campaigns "fleece" with "an effort to further diversity in both ethnicity and body shape," according to Nike.
Nike's mission statement defines "athlete" as "if you have a body, you are an athlete." That's some pretty clever marketing to include every person who lives and breathes in their spectrum of targeted customers. So, is the world buying into this hype of every body being an athlete?
Well, not so fast, Nike. While @thestellawilliams has garnered tons of support from her faithful followers and a few blue-checked celebrities who've chimed in on the debate, Ms. Williams has gotten lots of negative comments about her weight and how she looks in the styles she chooses to wear. Many people have taken issue with her take on what it means to be body positive, and not many agree with her on her "if it fits, wear it," mentality, even among her own followers and supporters.
How your body shape is represented online
Body shape acceptance and representation of plus-sized women online varies significantly from how the public perceives an hourglass figure of any weight and those with more ofan apple shape. When you think apple shape, you think of Stella Williams. Yes, there's a difference in the shapes and sizes of plus-size bodies, with not every body type and shape fitting into one specific mold.
Apple shapes store fat around the midsection rather than on the hips and thighs. While hourglass figures are characterized by almost equal bust and hip measurements with a smaller waistline giving off the Coca-Cola glass bottle effect.
The hourglass figure has been one of the most coveted body types in modern times because they're considered more attractive than other body shapes and are linked to a person's sexuality and charm. The hourglass figure is more round and curvy than others, has a well-defined waistline, fuller bust and hips, and thick thighs.
The Kardashian-Jenner sisters are the modern-day embodiment of the perfect hourglass figure that many Instagram models try and emulate, going to great lengths to achieve the coveted ratio and proportionality that sometimes only money can buy.
Body positivity and inclusivity: Fact or fiction?
Ms. Williams continues pushing past the boundaries of modesty and style and seems to succeed in every attempt. She's landed fashion brand deals with behemoth corporations such as Nike, Calvin Klein and trending fast fashion houses like Fashion Nova, Pretty Little Thing, and ShoeDazzle. It seems everywhere you turn, you can see Stella Williams, or some form of representation of her body type, taking over advertising space on billboards, print ads, and online marketing campaigns. But does this mean that everyone's buying into this trend?
For those not aware of how certain aspects of marketing work, here's a 30,000-foot view explanation. Retailers, marketing gurus, and just about anyone looking to capitalize on shifting trends dissect their niche or space in the market, analyzing trends, sub-trends, and seasonal projections and shifts when deciding where to spend their advertising dollars next.
Some of the hottest trends right now are body inclusivity, body positivity, and gender fluidity. It's all part of the woke movement aimed at correcting racial, gender, and other types of inequalities suffered by many. No one knows exactly how long this trend will last. However, in the United States alone, the woke movement is currently showing levels of decline. Retailers and advertisers must stay ahead of the curve to capitalize on these trends or suffer significant financial setbacks in their ability to make a profit.
Social media influencers like Williams insert themselves in their niche in hopes of changing the narratives that have hindered them from being accepted by societal standads, often gaining them recognition, followers, and some of those advertising dollars. Williams has taken her influencer status further by starting her own apparel and accessories line, Curve Haul, taking ownership of the very term that excluded her. She's garnered millions of views across social media platforms and has a strong following in the millennial plus-size community. Her venture's success depends on her reach, relatability, and the willingness of her followers to support her brand by purchasing from her company alongside the brands she promotes.
When reached for comment, Williams takes issue with society's definition of what's flattering versus unflattering on a person's individual form, weight, and body type. She says that part of her mission is to "empower all individuals in owning their confidence regardless of what others think and say" regarding body acceptance and representation of apple-shaped women in media.
She references the backlash she received in the past when one of her past Instagram posts turned viral meme after being body shamed in the jeans she was wearing. But the shaming doesn't end there. The fat shaming negativity has reached the plus-sized modeling community, with one Torrid model going viral for her apple-shaped "cafeteria lunch lady" body.
Can Social Media Ever Truly Be Body Positive And All-Inclusive?
Social media has the potential to be body-positive while having a positive impact on a significant number of people online. When individuals share positive support for body image, they treat themselves and their bodies more lovingly and compassionately while experiencing heightened levels of physical, emotional, and psychological well-being.
Contact Info:
Name: Matt Lory
Email: Send Email
Organization: Jordan Black Publishing LLC
Website: https://www.jblakepublishing.com

Release ID: 89079521
If you detect any issues, problems, or errors in this press release content, kindly contact error@releasecontact.com to notify us. We will respond and rectify the situation in the next 8 hours.