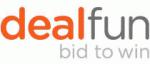 VANCOUVER, BC -- (Marketwire) -- 07/21/11 -- Newly launched website DealFun.com gives shoppers an exciting new way to get huge discounts on name brand merchandise in a high energy and exhilarating auction format. Your favorite name brands and high end items like iPods, Computers, Jewelry and much more are all available for amazing deals in these fast-paced auctions. DealFun makes the bidding risk free with their convenient "Buy It Now" option ensuring no bidder goes away empty handed.
Shoppers of DealFun.com can easily choose from a variety of bid packages pre-purchased in order to bid on the auctions of their choice, with each bid pushing the auction price up only one cent at a time. Most items on DealFun.com sell for as much as 85% less than the standard price and with no weekly or monthly win caps, each DealFun shopper can take home plenty of great new gear or win generous gifts for friends. The site also offers comprehensive 24/7 customer support to answer any questions along the way.
Even for the customers who don't win an auction, their bids will not go to waste with DealFun's "Buy It Now" option available on all items. Shoppers can use the bids they placed in an auction, and put the 100% cash exchange amount towards the purchase of that item. This way, shoppers can still purchase their desired item at a discounted rate and no bid will have to go unused. DealFun's "Buy It Now" option gives every shopper the opportunity to receive any item they choose, regardless of whether they win the auction or not!
Create your own DealFun.com account today and start winning the items you want at prices that are just pennies compared to their actual value. For more information or for help setting up your account, email support@dealfun.com. It's not just fun, it's DealFun!
Add to Digg Bookmark with del.icio.us Add to Newsvine