The Canadian Dollar: A Surprise Hedging Vehicle?
December 03, 2020 at 13:06 PM EST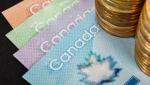 Foreign exchange markets aren't for the risk averse, especially when it comes to dealing with a pandemic that's seeing a higher number of cases rise globally. That being said, it does help to use currencies as a hedge, for short-term gains or for long-term holds, with funds like the...