Seeking Small-Cap Investment Gains Off the Beaten Path?
November 16, 2020 at 10:17 AM EST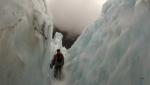 Smaller stocks are getting their groove back in a big way and that could be a sign of things to come. All bodes well for exchange traded funds like the ERShares International Equity ETF (NYSEARCA: ERSX). ERSX tracks 50 non-U.S. companies from around the world with market capitalizations between...