To support its goal of hiring 30 new drivers, Chelle Trucking & Logistics launched a new website that makes it easy to find important information and apply to join their growing carrier network.
(PRUnderground) November 3rd, 2020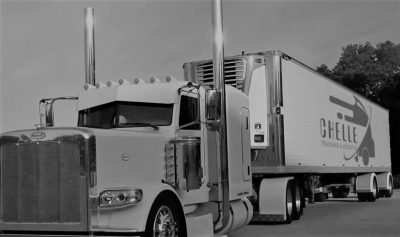 Chelle Trucking & Logistics announced the launch of a new website this week at www.drivechelle.com. With a clean look and feel, the new website provides a friendly user-experience and makes it easy for carriers to find the information they need to become a part of Chelle Trucking's growing network.
The biggest features of the new website are a Step-by-Step application guide and a comprehensive FAQ section that presents timely company information in a responsive format. Details about the benefits enjoyed by Chelle Trucking drivers are currently featured in the FAQ — benefits like free healthcare for the driver and their family, a flexible schedule that allows for a healthy work/home life balance, and 24/7 carrier support.
The website is the first step in the company's response to growing shipping demand. With plans to add 30 new drivers through the coming months, Chelle Trucking COO, Trivelle Simpson, believed that a website was essential to creating an easy and effective hiring process.
"Ultimately, we want to make it easier for drivers to have the tools they need to make an informed decision about working with Chelle Trucking," Simpson said. "Our company was founded on a mission of better supporting our carriers, and the new website helps us accomplish that goal — providing a clean and responsive experience that makes it easy to find information and join our growing team from any of your preferred devices."
"We're happy to share DriveChelle.com with the thousands of drivers and owner-operators who are searching for a company to call their home away from home," said CEO of Chelle Trucking, Ronice Harrison. "We support our carriers and believe that they are the true backbone of the industry, and we hope that fact comes across to any website visitor."
The website will be updated with new resources on a regular basis, including responses from company leaders to frequently asked questions and driver success stories. Any truck driver or owner-operator who wants to learn more about Chelle Trucking & Logistics is invited to tour the new site and apply for a position by visiting www.drivechelle.com.
About Chelle Trucking & Logistics
Chelle Trucking & Logistics is an innovative freight delivery firm based in Atlanta, Georgia. They combine cutting-edge technology and decades of expertise to transport goods at a fraction of the cost charged by larger brokerage companies. To prove this is possible, they offer a firm price-match guarantee to all of their dedicated clients.
To learn more about their approach and charitable missions, visit chelletrucking.com, or reach out via email at info@chelletrucking.com or toll free at 1-844-424-3553.
The post New Website Supports Hiring of 30 New Drivers at Chelle Trucking and Logistics first appeared on PRUnderground.
Press Contact
Name: Nishal Sukdhoe

Phone: 844-424-3553

Email: Contact Us

Website: https://www.chelletrucking.com
Original Press Release.