Who will win the NASCAR Cup Series championiship?
November 02, 2020 at 15:08 PM EST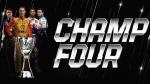 Brad Keselowski, Denny Hamlin, Chase Elliott and Joey Logano will be racing for the NASCAR Cup Series championship at Phoenix on Sunday, but who has the upper hand? Fox Sports takes a look at the four drivers' chances in the race.