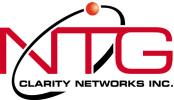 Toronto, ON - TheNewswire - November 2, 2020 - NTG Clarity Networks Inc. (TSXV:NCI) (OTC:NYWKF), announces its third quarter results for the period ended September 30, 2020 (all figures in Canadian Dollars). We are pleased to see that despite the ongoing difficulties, we have returned to profitability in Q3 2020 with a net profit of $246,515.
The ongoing COVID-19 pandemic measures present a significant source of economic uncertainty in 2020 and there have been impacts on NTG sales activities and collections have slowed. Though revenues have strengthened in Q3 2020, collections and cash flow still remain an issue.
Consolidated revenue for the three and nine months ended September 30, 2020 to $2,233,248 and $6,359,223 compared to $575,594 and $6,227,237 for the same periods in 2019 and is made up of product-related revenue and professional services.
The gross margin for Q3 2020 was $846,241 or 38%. Year to date gross margin was $2,360,901 or 37%.
Selling and marketing expenses for the three and nine months ended September 30, 2020 were $187,105 and $654,355 respectively compared to $617,450 and $1,483,505 in the previous year. This 70% decrease in the selling and marketing in the quarter (56% year to date) was the result continued customer site closures, and restricted travel and customer visits, suspended trade shows, and reduced salaries.
G&A expenses for the three and nine months ended September 30, 2020 were $384,815 and $2,172,818 respectively compared to $941,281 and $2,020,750 in the previous year. G&A costs have decreased in this period due to reduced salaries and no Kuwait expenses compared to the same period last year. In Q3, as in Q2 2020, there were no salaries accrued or paid for employees and management in the Canadian office due to COVID-19.
Working capital as at September 30, 2020 was a deficit of $5,870,854 compared to a deficit of $4,490,883 at December 31, 2019.
Income statement highlights for the three and nine months ended September 30, 2020 and 2019
3 Months Ended

9 Months Ended

Sept 30, 2020

Sept 30, 2019

Sept 30, 2020

Sept 30, 2019

REVENUE

$

2,233,248

$

575,594

$

6,359,223

$

6,227,237

COST OF SALES

1,387,007

1,393,617

3,998,322

4,486,129

GROSS PROFIT

$

846,241

$

(818,024)

$

2,360,901

$

1,741,107

Expenses

632,277

4,387,045

3,321,159

6,878,433

Foreign exchange loss (gain)

(32,551)

33,913

190,611

212,887

Net Income before taxes

246,515

(5,238,982)

(1,150,869)

(5,350,213)

Other - Exchange (loss) gain on translation

5,544

28,516

(215,524)

155,296

Net Income after taxes

$

252,059

$

(5,210,467)

$

(1,366,393)

$

(5,194,917)

Per Share

$

0.00

$

(0.09)

$

(0.01)

$

(0.09)
Balance Sheet Highlights for the nine months ended September 30, 2020 and December 31, 2019
September 30, 2020

Dec. 31, 2019

Current Assets

$

2,281,590

$

2,588,976

Current Liabilities

$

8,152,444

$

7,079,859

Long-Term Debt

$

7,100,712

$

7,100,712

Shareholder's Equity

$

(12,804,409)

$

(12,102,151)
Outlook
COVID-19 continues to impact NTG in the form of lower than expected revenues and slower collections.
In Q3 2020, existing projects resumed and employees are now working either on customer sites or remotely.
COVID-19-related business changes, such as the cancellation of marketing events, customer in-person meetings and travel, combined with management mandated salary reductions, have combined to reduce cost of sales by 16% and selling expenses by 46%.
In Q3 2020 our revenue amounts were stronger and we showed a net profit of $246,515. We also announced three new projects that we anticipate will be starting in Q4 2020:
- a significant project in a government department in the Gulf area to provide technical resources (24 to 36-months; $1.9M).

- a project to provide technical resources to a major telecom operator in Canada (1 year; $375,000).

- another project in a government department in the Gulf area to provide technical resources (3 year; $1M).
It remains uncertain how long COVID-19 conditions will continue and what long-term impact they will have on our customers, our business and cash flows.
About NTG Clarity Networks Inc.
NTG Clarity Networks' vision is to be a global leader in providing networking solutions. As a Canadian company established in 1992, NTG Clarity has delivered networking, IT and network enabled application software solutions to network service providers and large enterprises. More than 300 network professionals provide design, engineering, implementation, software development and security expertise to the industry's leading network service providers and enterprises.
Forward Looking Information
Certain statements in this release, other than statements of historical fact, are forward looking information that involves various risks and uncertainties. Such statements relating to, among other things, the prospects for the company to enhance operating results, are necessarily subject to risks and uncertainties, some of which are significant in scope and nature.
These uncertainties may cause actual results to differ from information contained herein. There can be no assurance that such statements will prove to be accurate. Actual results and future events could differ materially from those anticipated in such statements. These and all subsequent written and oral forward looking statements are based on the estimates and opinions of the management on the dates they are made and expressly qualified in their entirety by this notice. The Company assumes no obligation to update forward looking statements should circumstances or management's estimates or opinions change.
The TSX Venture Exchange does not accept responsibility for the adequacy or accuracy of this release.
For Further Information:
Kristine Lewis, President, NTG Clarity Networks Inc.
Ph: 905-305-1325
Fax: 905-752-0469
Copyright (c) 2020 TheNewswire - All rights reserved.