NASCAR's Texas Cup Series playoff race delayed for rain. What happens now?
October 26, 2020 at 10:59 AM EDT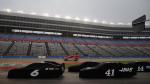 NASCAR's Autotrader EchoPark 500 Cup Series playoff race at Texas Motor Speedway has been delayed due to rain that could continue through Wednesday. Here's what could happen if the race isn't completed by then.