Is PayPal Luring Investors into Crypto?
October 22, 2020 at 10:02 AM EDT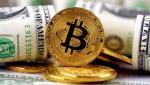 Bitcoin, the world's largest digital currency, delivered a big bounce on Wednesday as fintech giant PayPal (NASDAQ: PYPL) said it will allow customers and Venmo digital wallet users to buy, sell, hold and otherwise transact in the cryptocurrency. While it's just one news item, bitcoin...