Blooms Company, which features Mississippi-made gifts and home decor, stands strong as a mother-daughter duo carry the Blooms legacy into its 26th year with an expansion and new location.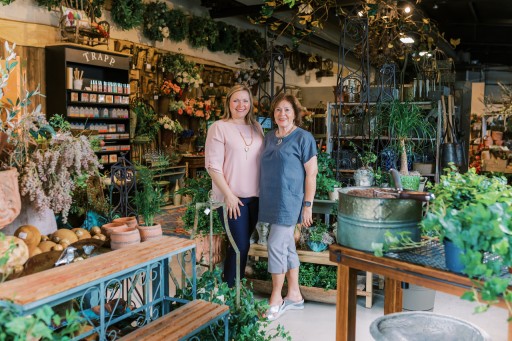 HATTIESBURG, Miss. - September 21, 2020 - (
Newswire.com
)
​​Blooms Company, formerly known as Blooms A Garden Shop, has rebranded, expanded, and moved locations to a beautiful new downtown storefront at 301 McLeod Street. Blooms Company—which features Mississippi-made gifts and home décor, an unexpected plant selection, unique garden décor, stunning floral arrangements for every occasion, one-of-a-kind event rentals, and event planning and design—stands strong as the mother-daughter duo of Joyce Hicks and Adrienne Hicks-Garanich carry the Blooms legacy into its 26th year of serving the Pine Belt.
Blooms has always been the place where locals and visitors alike can gather to inspire, create, and connect. Blooms founder Joyce Hicks possesses a distinct vision for the business that she and her daughter Adrienne now share. "Since 1994, I've wanted to give people an experience unlike any other," Hicks said, "Blooms is the place where people order flowers for the people they love. It's the place where you come to pick out a unique gift for someone special. It's where you find event rentals that will set your party apart." As the company grew, however, Hicks knew that she and her daughter needed to expand the 'shoulders' of the brand to accommodate Celebrations, an event rental company owned by Bill Garanich, Adrienne's husband. "Celebrations needed to become a part of Blooms. We wanted all the services we offer under one roof."
As Joyce and Adrienne sought to expand, they called on BREAD, a business support agency in Hattiesburg. Hicks and Hicks-Garanich worked with Grace Kent Johnson, the CEO and owner of BREAD, to rebrand and strategize for the future of Blooms. "Grace and her team helped us incorporate Celebrations into Blooms, and they helped us expand what Blooms means and what Blooms offers. Hicks-Garanich said, "Blooms has evolved over the last decade into so much more than just a garden shop. As the floral and wedding side of our business grew, the addition of event rentals only seemed natural. With florals and event rentals in the same space, we've become a one-stop-shop for designing and creating beautiful gatherings."
Adrienne, Joyce and their incredibly talented design team have brought all the right elements together to make a huge impact in the Hattiesburg business community. "Our new space allows us to offer more of what everyone loves about Blooms and expand the areas that our customers have been asking for — floral design classes, bridal registry, event rentals," Hicks said. Blooms has become a gathering place to connect, create and be inspired. "We can't wait to see even more people experience Blooms," Hicks said.
Press Release Service by
Newswire.com
Original Source:
Blooms Company, Formerly Known as Blooms A Garden Shop, Calls on Hattiesburg Agency to Launch Rebrand