Are There Significant Headwinds for Emerging Markets?
August 20, 2020 at 10:56 AM EDT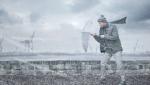 Re-emerging U.S.-China tensions and Covid-19 offer significant headwinds for emerging markets (EM). Nonetheless, it doesn't necessarily mean that investors shouldn't avoid EM completely. "Markets will begin to price more caution given the upcoming volatile US election, and particularly...