Could Uber Stock Earnings Could Boost ETFs?
August 06, 2020 at 13:47 PM EDT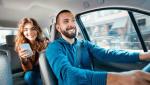 With earnings season still bustling, ridesharing company Uber is set to release its earnings Thursday. Uber investors will get a better picture of how the coronavirus pandemic, which has left many Americans sheltering in place, has affected Uber's overall business. The rideshare giant is...