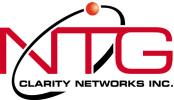 Toronto, ON - TheNewswire - July 31, 2020 - NTG Clarity Networks Inc. (TSXV:NCI) (OTC:NYWKF), announces its second quarter results for the period ended June 30, 2020 (all figures in Canadian Dollars).
The ongoing COVID-19 pandemic presents a significant source of economic uncertainty and there have been impacts on NTG sales activities and collections have slowed.
Towards the end of June 2020, NTG's offices re-opened with the Egypt office starting a gradual return with enhanced health and safety protocols. Employees working at customer sites are following customer's protocols for working onsite or remotely.
Consolidated revenue for the three and six months ended June 30, 2020 was $1,651,209 and $4,125,975 compared to $2,035,298 and $5,651,642 for the same periods in 2019 and is made up of product-related revenue and professional services.
Gross margin for Q2 2020 was $627,252 compared to $975,171 for Q2 2019. Percentages were (38% compared to 48% for Q2 2019). For the six months ended June 30, 2020 the gross margin was $1,514,660 or 37%, compared to $2,559,130 or 45% for the same period in 2019.
Selling and marketing expenses for the three and six months ended June 30, 2020 were $193,961 and $467,250 respectively compared to $467,061 and $866,056 in the previous year. This 58% decrease in the selling and marketing in the quarter (46% year to date) was the direct result of customer and office closures as required by COVID-19. Travel, trade shows and customer visits were suspended, and salaries were reduced during the period.
G&A expenses for the three and six months ended June 30, 2020 were $1,191,283 and $1,788,003 respectively compared to $495,273 and $1,079,468 in the previous year. G&A costs have increased significantly in this period due to:
- End of Service (severance) salary accruals in the amount of approximately $512,626.

- The retention of highly skilled personnel (considered to be the Corporation's main assets) in anticipation of the re-start of existing projects put on hold due to COVID-19. Salaries and consulting costs were booked into G&A expenses.
In Q2 2020 there were no salaries accrued or paid for employees and management in the Canadian office due to COVID-19.
Working capital as at June 30, 2020 was a deficit of $6,125,997 compared to a deficit of $4,490,883 at December 31, 2019.
Income statement highlights for the three and six months ended June 30, 2020 and 2019
3 Months Ended

6 Months Ended

June 30, 2020

June 30, 2019

June 30, 2020

June 30, 2019

REVENUE

$

1,651,209

$

2,035,298

$

4,125,975

$

5,651,642

COST OF SALES

1,023,957

1,060,127

2,611,315

3,092,512

GROSS PROFIT

$

627,252

$

975,171

$

1,514,660

$

2,559,130

Expenses

1,747,782

1,253,383

2,688,882

2,491,387

Foreign exchange loss (gain)

(121,668)

30,283

223,162

178,974

Net Income before taxes

(998,862)

(308,494)

(1,397,384)

(111,231)

Other - Exchange (loss) gain on translation

(20,853)

19,325

(221,068)

126,780

Net Income after taxes

$

(1,019,715)

$

(289,170)

$

(1,618,452)

$

15,549

Per Share

$

(0.01)

$

(0.005)

$

(0.02)

$

0.00
Balance Sheet Highlights for the six months ended June 30, 2020 and December 31, 2019
June 30, 2020

Dec. 31, 2019

Current Assets

$

1,997,689

$

2,588,976

Current Liabilities

$

8,123,686

$

7,079,859

Long-Term Debt

$

7,100,712

$

7,100,712

Shareholder's Equity

$

(13,058,469)

$

(12,102,151)
Outlook
The COVID-19 pandemic had a significant impact on NTG in Q2 2020, in the form of reduced revenue, delayed projects, and slower collections.
As of the publishing of this report, existing projects have resumed and employees are working either on customer sites or remotely. It remains uncertain how long these COVID-19 conditions will continue and what long-term impact they will have on our customers and our business and cash flows.
About NTG Clarity Networks Inc.
NTG Clarity Networks' vision is to be a global leader in providing networking solutions. As a Canadian company established in 1992, NTG Clarity has delivered networking, IT and network enabled application software solutions to network service providers and large enterprises. More than 300 network professionals provide design, engineering, implementation, software development and security expertise to the industry's leading network service providers and enterprises.
Forward Looking Information
Certain statements in this release, other than statements of historical fact, are forward looking information that involves various risks and uncertainties. Such statements relating to, among other things, the prospects for the company to enhance operating results, are necessarily subject to risks and uncertainties, some of which are significant in scope and nature.
These uncertainties may cause actual results to differ from information contained herein. There can be no assurance that such statements will prove to be accurate. Actual results and future events could differ materially from those anticipated in such statements. These and all subsequent written and oral forward looking statements are based on the estimates and opinions of the management on the dates they are made and expressly qualified in their entirety by this notice. The Company assumes no obligation to update forward looking statements should circumstances or management's estimates or opinions change.
The TSX Venture Exchange does not accept responsibility for the adequacy or accuracy of this release.
For Further Information:
Kristine Lewis, President, NTG Clarity Networks Inc.
Ph: 905-305-1325
Fax: 905-752-0469
Copyright (c) 2020 TheNewswire - All rights reserved.