Is It the Gold Bears' Time to Really Shine?
April 29, 2020 at 10:51 AM EDT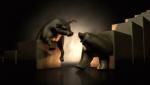 If gold had to give a "thank you" speech for its recent run, it better mentions the coronavirus pandemic. Gold has been benefitting from a sustained flight to safe haven assets like precious metals, but there might be too much exuberance for gold—is it time for the bears to shine now? "The...