In 32 years of supporting public health, STC has been through this many times… Measles, Hep A, Whooping Cough, Zika, Avian Flu, H1N1, SARS, Katrina, and the post 9-11 Anthrax risk, all in just the past couple of decades. But today there is a difference. Public Health preparedness, advanced information systems, stronger public-private immunizations partnerships, significant population health data assets and analytical tools to support risk mitigation are just a few of the assets available in today's world.
(PRUnderground) March 9th, 2020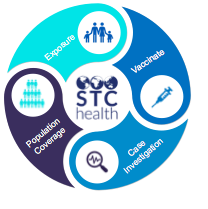 "STC's senior leadership team met late last week to discuss how we can be proactive with our public health, pharmacy, EHR, consumer, and school partners as this outbreak evolves." said CEO, Mike Popovich, "As a result, we established a task force with 4 main focus areas: "
Strengthen the current STC | ONE, complete public health management tool, to ensure performance can scale well above current operations.

Strengthen the current STChealth data exchange network by reducing state onboarding queues, developing new electronic connections between immunization providers and public health, and boosting the use of built in clinical decision support.

Increase the number of consumers who have access to their official immunization records and engage directly with them via our MyIR portal.

Implement outcome driven decision making tools to report and monitor at risk populations, new vaccine delivery, and inventory distribution and supply. This will not only allow public health to review their patient populations but also roll up information to area, community, region, state and national organizations.
The STChealth Consortium, made up of our key public health clients in the US and Internationally, are a driver of many of these initiatives, working to  ensure that the entire community is prepared to take on COVID-19 and any future outbreak or pandemic. For example, the Consortium has already integrated COVID-19 lab results into our disease surveillance tool so they can be sent electronically up to the CDC.
" In the last 30 days, we have given over 15,000 consumers immediate access to their immunization records. We don't have a coronavirus vaccine yet, but people want to feel in control of their health, and getting up to date on immunizations is one way they can do that," said Mike. "There are still a lot of unknowns, but we aren't going to sit around and wait until we know. We are armed and ready to support our public health partners NOW."
About STChealth
Tens of thousands die each year from the flu. New measles cases occur even though it was all but eradicated. Whooping cough still kills the young. These and many more diseases are diminished through the use of vaccines, public health prevention programs, and data intelligence. STC, through our innovative technology solutions and consultancies, is on the front line of this battle with its mission to eradicate vaccine preventable disease and create a healthier future. Ideas Start Here!
Press Contact
Name: Dylan Ortega

Phone: 480-745-8500

Email: marketing@stchome.com

Website: https://www.stchealth.com
Original Press Release.