How are conservative governments fighting sanctuary cities?
February 28, 2020 at 07:21 AM EST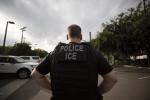 An undocumented immigrant from El Salvador was arrested in Maryland earlier this month on suspicion of raping an 11-year-old girl. U.S. Immigration and Customs Enforcement (ICE) Enforcement immediately issued a detainer request with Montgomery County authorities to take him into custody.