Will Bed Bath & Beyond Affect Home Goods ETFs?
February 12, 2020 at 13:11 PM EST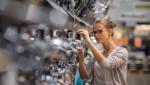 Bed Bath & Beyond Inc. is having a rough morning Wednesday, still down over 23% after the company's decision to announce disappointing same-store sales figures well in advance of its fourth-quarter earnings release. The home goods retailer's shares tanked nearly 25% on Wednesday...