Can Active Management Overcome These Two Hurdles?
February 07, 2020 at 11:00 AM EST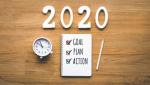 Getting active—in terms of health benefits, this is always a good thing and doesn't require much selling, but when it comes to active ETFs, it's a different story. As the active versus passive management debate persists, the former is facing two hurdles it needs to overcome—beating the market and...