Pliny the Elder died in the Mount Vesuvius eruption of A.D. 79. Is this his skull?
February 04, 2020 at 05:00 AM EST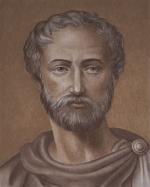 A skull discovered almost a century ago on a shore near Pompeii might, just might, be that of Roman naturalist and military leader Pliny the Elder, new research finds.