Does Bitcoin Need to Climb Higher to be ETF Ready?
November 19, 2019 at 11:07 AM EST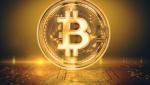 Could cyrptocurrency ETFs be too small to get SEC approval? That is what one crypto expert contends about Bitcoin. Bitcoin would need to rocket past $150,000 per coin to make an exchange-traded fund for the cryptocurrency possible, Fundstrat Global Advisors co-founder Tom Lee said, according...