Award winning author Richard Wills debuts his new crime fiction noir book, 77th and Broadway: A Decade in a World of Crime on Behind the Curtains Variety Show
(PRUnderground) November 2nd, 2019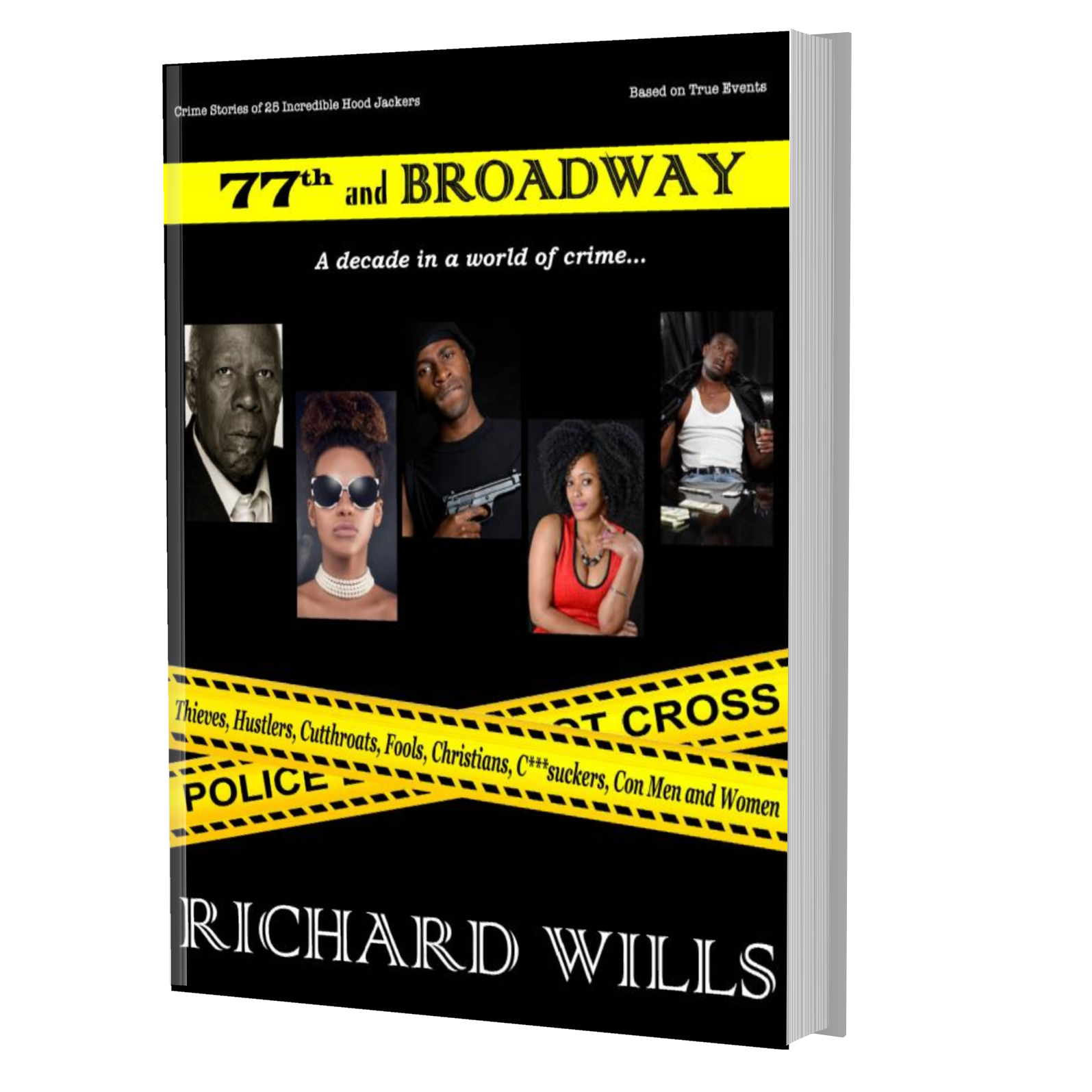 Behind the Curtains, a popular entertainment and variety TV program, showcasing local and international talent, featured award winning author Richard Wills who talked about his new book, 77th and Broadway: A Decade in a World of Crime. "Who could best write a tale about the life of a bail bondsman in LA during the mid-1970s and 1980s than Richard Wills," said the show's executive producer Eric Bailey.
Richard Wills is a former Los Angeles bail bondsman, having worked at two of the city's busiest agencies in crime-active communities. He is the author of six non-fiction books, including the best-seller, The Professional Bondsman – How to Start and Operate Your Own Bail Bond Agency, which has been used as a training manual for bail bondsmen in California and across the country. He's been an actor, TV host, screenwriter, director and producer.
After welcoming Wills to the show, host Donnie D jumped right into the interview and asked, "What's the book about?" Wills summarized the book commenting, "77th and Broadway is the story about a struggling, conniving LA bail bondsman, who breaks all the rules, trying to save his business…and at the same time he hires a small-time hustler with a shady past to help him out…all of this happens during the advent of a cocaine epidemic that rocked LA and many other cities across the country…as the story unravels we're introduced to 25 true-event crime stories that bring an array of unscrupulous characters such as thieves, hustlers, thugs, con men and women…all who make up the fabric of individuals coming in and out of the bail bond office, making the story funny, entertaining, it's lively, raw and gritty with characters who will make you laugh, some may even make you cry, characters you will love and some you may even hate, all of this makes up 77th and Broadway."
Wills discussed the future of the bail bonds business in California, touching on the bail reform initiative (Senate Bill 10), which threatens to end the cash bail system, thus putting bail bondsmen out of business. When asked how he felt about it, Wills responded, "Just like any initiative, it's like 50/50, you have supporters and opponents, some will like it, and some won't." Wills also pointed out the monumental work that The Bail Project, a non-profit organization is doing to help people in need bail out of jail.
As the show winded down, Wills shared his future book projects as well as provisional film propounds. Donnie wrapped up the show with Wills announcing that the book, 77th and Broadway will be available on December 9, 2019 on Amazon and Wills' website www.richardwills.net, social media page, www.facebook.com/hoodjackers, and wherever fine books are sold for $14.99 in paperback and $7.77 in Kindle.
To watch the interview with Richard Wills and other Behind the Curtains entertainment, visit their YouTube Channel at:
https://www.youtube.com/channel/UCRKKqv4xDud7izwXa-2KLbA/videos?disable_polymer=1
About Behind the Curtains:
Behind the Curtains is in its 7th season. This variety show features topflight entertainment from local musicians as well as personalities from around the globe. The show airs every Thursday at 9:00am and 9:00pm on Charter Channel 32 and AT&T U-Verse Channel 99 Pasadena. The Executive Producer is Eric L. Bailey, Sr., and the show is hosted by Franklin Donnie D. Behind the Curtains is produced by E-Dog Productions and filmed at the studios of Pasadena Media, a non-profit organization that facilitates, promotes and produces public service television programming on behalf of Pasadena's four public and community access channels. The media company also operates a community media training center and television studio in Pasadena, California.
About Richard Wills:
Richard Wills is an author, content creator, entrepreneur, television producer, host and moderator. He is the author of six non-fiction books, including a bestseller. His work as a TV host and producer earned him a finalist in the WAVE (Western Access Video Excellence) Awards competition. Competition for this award included six states: California, Nevada, Hawaii, Arizona, Colorado and New Mexico.
After interviewing over 200 book authors and experts on his TV program, Book Parade! with Richard Wills, he decided to draw upon his years as a bail bondsman and write his first work of fiction, 77th and Broadway: A Decade in a World of Crime. He brings to life 25 true-event crime stories and interweaves them into one roller coaster ride, entailing unscrupulous individuals whose lives illuminate issues of social injustice, betrayal, corruption, power and punishment.
Publishers Weekly, BookLife Critic's Review, The BookLife Prize quoted, "The novel's central focus on bail bondsmen in a distinctive time period in Los Angeles is highly original, as is its piecemeal structure and integration of true crime."
About True Crime Writer
What if a small-time hustler with a shady past finds his dream job, getting paid to keep crooks in business? That's exactly what happens in 77th and Broadway: A Decade in a World of Crime when Richie Smooth is hired to help a struggling LA bail bondsman, who breaks all the rules, salvage his failing business. This crime fiction is set in the mid 70's and 80's in Los Angeles prior to the advent of crack cocaine and meth. A superbly crafted plot interweaves a series 25 true-event crime stories into one roller coaster ride entailing thugs, dealers and unscrupulous characters whose lives illuminate issues of social injustice, corruption, betrayal, power and punishment…all who roll the dice and gamble to come-up big, wind-up in prison, or stretched-out on a cold slab in the coroner's office, DOA.
Press Contact
Name: Richard Wills

Phone: 6263987450

Email: willsrichard@att.net

Website: www.richardwills.net
Original Press Release.