When Does The Glitter Of Gold Shine Brightest?
August 09, 2019 at 14:36 PM EDT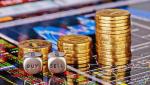 There have been reports on the rallying of gold all week, even with the brief pause factored in. However, according to Craig Johnson, chief market technician at Piper Jaffray, it may be better to wait. While the precious metal may have topped $1500 an ounce, its highest level in more than six...