Scientific Technologies Corporation's New Approach to Dealing with The Anti-Vaccine Movement: Humor
STC's advocacy group, the Immunization Ambassadors, released a new cartoon offering a lighthearted look at the anti-vaccination movement, and intentionally did not copyright it as a way to encourage everyone to pass it along or post or publish it.
(PRUnderground) March 26th, 2019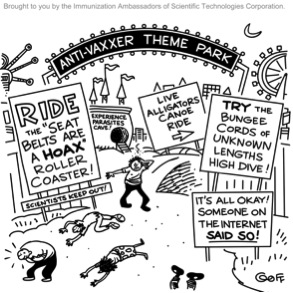 Mike Popovich, CEO of STC, explained why the company commissioned the new cartoon: "The measles outbreak is making people care again about diseases that vaccines had eliminated. There is plenty of information around about the science of vaccines, but that hasn't gotten through to everyone, so we decided to try a humorous approach."
Download cartoon HERE
(Different formats available by contacting Editor@stchome.com )
About Scientific Technologies Corporation
Tens of thousands die each year from the flu. New measles cases occur even though it was all but eradicated. Whooping cough still kills the young. These and many more diseases are diminished through the use of vaccines, public health prevention programs, and data intelligence. STC, through our innovative technology solutions and consultancies, is on the front line of this battle with its mission to create a healthier future. Ideas Start Here!
Press Contact
Name: Lara Popovich

Phone: 480-745-8500

Email: marketing@stchome.com

Website: www.stchealth.com
Original Press Release.