David Webb: Are Facebook, Twitter legally responsible for policing against terror?
March 07, 2019 at 21:32 PM EST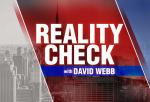 Social media is an everyday part of our lives today. Targeting is supposed to be about advertising and profit. Fact is we choose to join and since it's free there has to be a revenue source.