The BIG Give truck to deliver Christmas gifts to 1,000 families in Pinellas County this December.
Palm Harbor, FL (PRUnderground) November 20th, 2018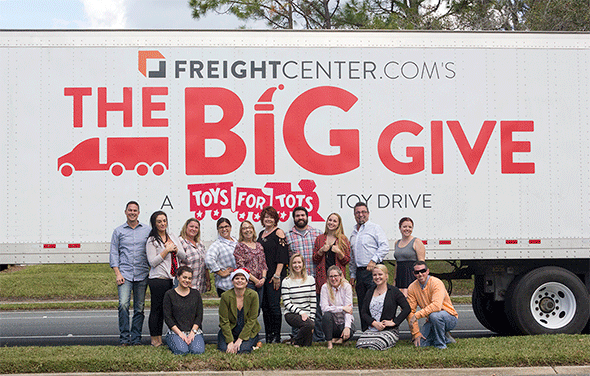 The BIG Give truck is rolling into town and we need the community's support to fill it with toys and bikes. FreightCenter, lead sponsor of The BIG Give, invites the public to visit any Publix Super Markets location in Pinellas County from now until December 17 and drop off unwrapped toys for boys and girls ages zero to 12.
In support of the Toys for Tots Foundation, four local businesses launched The BIG Give initiative in 2017. The event is the biggest collaborative toy drive benefiting Toys for Tots in our area. Every year, Tampa Bay area residents donate more than 150,000 Christmas gifts to 22,000 children.
Again, this year, a 53-foot semi will consolidate donations from various collection sites from around the county. FreightCenter, Smith Transportation, FASTSIGNS of Palm Harbor and Publix Super Markets are this year's sponsors.
On December 18, The BIG Give volunteers will deliver donations to the distribution warehouse. Starting December 21, families who registered for assistance will be able to pick up unwrapped toys to give to their children on Christmas Day.
Become a BIG Give Sponsor:
Host a toy drive

Invite The BIG Give semi to your event
How to Participate as an Individual:
Purchase unwrapped toy or bike

Drop off donation at Publix or a neighborhood Toys for Tots toy drive

Volunteer at a local toy drive event
Collection boxes and posters are available for pick up at 1057 Cephas Road in Clearwater. The office will be open on Nov 9, 16 and 30 from 3 p.m. to 6 p.m. This location is not where families will pick up toys. Please visit https://www.toysfortots.org/ for detailed information for families and donors.
To host The BIG Give truck at your toy drive event, please contact Terese Kerrigan at tkerrigan@freightcenter.com. Sponsorship opportunities are still available for a limited time.
About FreightCenter
Headquartered in Tampa Bay since 1998, FreightCenter is one of first third-party logistics provider to offer online rating and booking technology to the freight industry. FreightCenter has been widely recognized in the industry for its growth, culture, philanthropy, and commitment to the supply chain. FreightCenter specializes in less-than-truckload, truckload, international, parcel, and transportation management services for small to medium size businesses of various sizes and industries.
Press Contact
Name: Terese Kerrigan

Phone: 727-450-7826

Email: tkerrigan@freightcenter.com

Website: https://www.freightcenter.com
Original Press Release.