The Industry-Leading Sports Facilities Management adds COO Dave Pritchett to manage growing venue portfolio.
Clearwater, FL (PRUnderground) October 2nd, 2018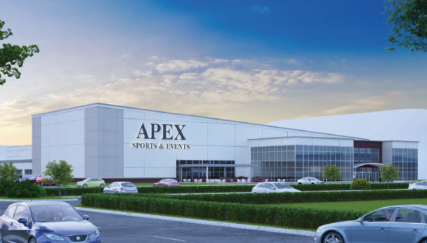 As the community recreation and youth sports tourism industry has grown, so has the need for specialized management services. This youth travel sports industry is expected to double in size from $15 billion to a projected $30 billion in 2022-2025 according to a report from the Wintergreen Research Institute. In preparation for this industry growth and of their National Network including venues, partners, recruits, and events; the outsourced management firm, Sports Facilities Management, has hired COO Dave Pritchett, formerly of retail giant Galyan's Sports & Outdoors and Golfsmith Golf & Tennis.
Pritchett was instrumental to the big-box sports retail pioneer Galyan's growth and observed first-hand the development boom in sporting goods retail-tainment.  "I am thrilled and honored to be joining such an innovative and successful organization.  SFM's has a rich history of accomplishments and I look forward to furthering our mission to improve the health and ecomonimc vitality of the communities we serve."  says Pritchett.
"We are laser-focused on enhancing our development, finance and management solutions to equip communities with the very best tools to improve the health and economic vitality through sport and recreation. Dave's personal values, leadership skills and track record of growing organizations founded in excellence and service is a great fit," added Jason Clement, Founder and CEO of Sports Facilities Management.
The Clearwater, FL based firm, currently manages popular sports tourism destination across the United States such as the Myrtle Beach Sports Center (Myrtle Beach, SC), Rocky Top Sports World (Gatlinburg, TN), Hoover Metropolian Complex (Hoover, AL), Rocky Mount Events Center (Rocky Mount, NC), Fox Cities Champion Center (Appleton, WI), and Cedar Fair Indoor Sports Center (Sandusky, OH). The firm also provides services such as optimization plans, pre-opening timelines, FF&E procurement, and marketing to community-focused facilities traditionally managed by local parks and recreation departments.
"Recreation and park assets can be so much more than a local amenity. With the proper operational set up, they are a major catalyst to thriving communities. The diversity of their use, potential to contribute financially, and capability to spur additional development extend beyond the historic cost recovery discussion," said Clement.
Clement elaborates this is just the beginning of SFM's growth and trend of outsourced management. "Communities are finding outsourced management can expedite their desired outcomes by tapping into the SFM national network of operators, procedures and relationships. We are passionate about building operations that serve communities to attain their goals."
About The Sports Facilities Advisory | The Sports Facilities Management
Sports Facilities Advisory, LLC (SFA) and Sports Facilities Management, LLC (SFM) are both headquartered in Clearwater, FL. Founded in 2003, SFA has served more than 2,000 communities, produced more than $10 billion in institutional-grade financial forecasts, and provided funding strategies and solutions for more than 120 youth and amateur sports and recreation complexes worldwide. SFM provides industry-leading, results-driven management solutions for sports, fitness, recreation, and event venues nationwide. Since 2014, SFM-managed venues have hosted more than 75 million visitors and generated millions of dollars in economic impact. For more information, visit: www.sportadvisory.com.
Press Contact
Name: Ashley Whittaker

Phone: 7274743845

Email: awhittaker@sportadvisory.com

Website: www.sportadvisory.com
Original Press Release.