STC's latest report quoted Balls Foods pharmacist Erin Graham as she discussed working with her customer-patients: I'm finding that many of our patients have recently been to see physicians, but it wasn't brought up. The physicians often have so much to cover in such a short time that they have to prioritize and sometimes vaccines don't make the list. That can mean that we are the only health care professional to address a vaccine.
Phoenix, AZ (PRUnderground) August 6th, 2018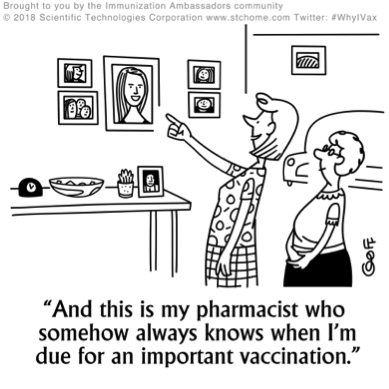 One of the advantages pharmacists like Erin have is vaccination data integrated into workflow by FDS, Inc., a Fort Worth based technology company that describes itself as "pharmacy-centric." The data offers the pharmacist prompts and alerts that include recommended vaccines. This helps Erin Graham make the best use of her time with patients, building relationships and becoming their trusted sources for immunizations. She adds,  "I know most of my patients by name. And if they know I know who they are, they think, 'Erin knows me,' and they look to me for advice and answers to their health care questions."
The report is available at: https://stchealth.com/2018/07/17/erin-knows-me/
About Scientific Technologies Corporation
Tens of thousands die each year from the flu. New measles cases occur even though it was all but eradicated. Whooping cough still kills the young. These and many more diseases are diminished through the use of vaccines, public health prevention programs, and data intelligence. STC, through our innovative technology solutions and consultancies, is on the front line of this battle with its mission to create a healthier future. Ideas Start Here!
Press Contact
Name: Lara Popovich

Phone: 480-745-8500

Email: marketing@stchome.com

Website: www.stchealth.com
Original Press Release.