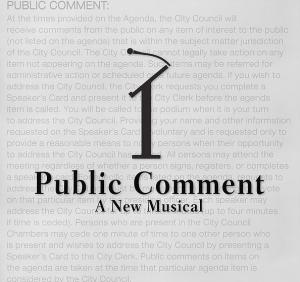 A New Musical Playing Now at The Hollywood Fringe Festival
LOS ANGELES, CA, US, June 2, 2018 /EINPresswire.com/ -- PUBLIC COMMENT PRODUCTIONS
1746 N Cherokee Ave, Apt 1i
Los Angeles, CA 90028
(916) 868-3241
email: publiccomment18@gmail.com
https://adamsartain.wix.com/publiccomment
"First ever musical about local politics to come to Hollywood Fringe Festival"
(May 11, 2018)
The Actors Company, Let Live Stage is gearing up for Los Angeles Fringe Fest
2018 and will be featuring an original musical, "Public Comment - A New
Musical". This spectacularly hilarious satire takes us to the city of Happymont,
your typical small but growing city. While the Happymont City Council tries to
keep order and get business done, the Public, or at least those who participate in
Public Comment, takes up the Council's time with conspiracy theories, rants and
catchy musical numbers. The council tries to once and for all get rid of Public
Comment, but the public won't give up their chance to be heard without a fight! It
all boils down to one man who has never in his life spoken at City Council
Meetings, and frankly, is terrified to do so. Can this one man save Public
Comment for the whole city and bring everyone together?
The show features the songs of Adam Sartain and Utsav Bhargava, including
"What's an Invocation," "Conspiracy Song," "You're Not Really Listening,"
"Political Consequences," and of course, a sure to be audience favorite, "Can't
Stop the Passion!" The Production of "Public Comment" is Directed by Stephen
Juhl, with Music Director, Esin Ozlem Aydingoz and Executive Producers from
Comedy Central and Netflix shows. Performers highlighted in the show include
Reatha Grey from Betty White's "Off Their Rockers,"Always Sunny in
Philadelphia, and "Castle."; Michael Cannetty with guest appearances on "Jimmy
Kimmel Live" and "Hidden America with Jonah Ray."; and Jessica Rae Duarte
from "The Bill Engvall Show." all mixed in with Fringe Veterans and many more
talented actors.
Public Comment, A New Musical will be performed during the height of Fringe
Fest 2018:
Saturday June 2nd - 8:30 PM (Preview)
Saturday June 9th - 9:30 PM
Sunday June 10th - 5:00 PM
Friday June 15th - 11:30 PM
Saturday June 16th - 7:00 PM
Sunday June 17th - 4:30 PM
Saturday June 23rd - 5:30 PM
All performances will take place at the Actor's Company, Let Live Stage, located at 916
N. Formosa Ave. Los Angeles, California 90046.
Tickets go on sale beginning May 1
st and are priced at $20. Tickets can be purchased both
online through our website, https://adamsartain.wix.com/publiccomment OR in person on the day
of the performance if tickets are available at the time. Any press inquiries can be sent to
Public Comment Productions, above.
Adam Sartain
Public Comment
9168683241
email us here